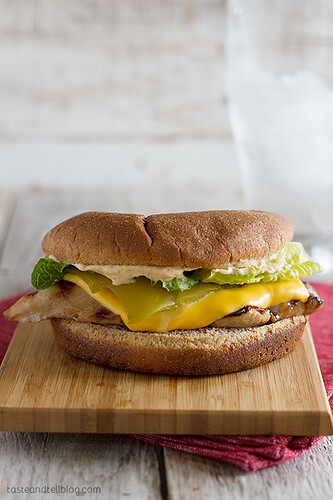 Chicken
2 large boneless, skinless chicken breasts, 10-12 oz each
½ cup Homemade Teriyaki Sauce (see below)
Sauce
1/3 cup mayonnaise
¼ teaspoon paprika
¼ teaspoon curry powder
1/8 teaspoon cayenne pepper
1/8 teaspoon salt
Sandwiches
4 slices American cheese
4 whole wheat buns
4 canned whole green chiles
lettuce
Butterfly the chicken breasts open, and cut each breast into 2 thinner pieces. (Alternately, use 4 smaller chicken breasts and pound to an even thinness.) Combine the chicken with the teriyaki sauce in a large ziptop bag. Marinate for at least 4 hours, up to overnight.
In a bowl, combine the mayonnaise, paprika, curry powder, cayenne and salt. Set aside.
Preheat a grill or a grill pan over medium. Spray with nonstick cooking spray then add the marinated chicken breasts, discarding any remaining marinade. Grill until no longer pink and juices run clear, about 10 minutes, turning once. When the chicken is almost finished cooking, place one slice of cheese on top of the chicken to melt.
Spread one fourth of the sauce on each of the undersides of the top buns. Place the chicken on the bottom bun, then add a green chile on top, followed by some lettuce. Top with the top bun and serve.
Homemade Teriyaki Sauce
1 cup water
5 tablespoons packed brown sugar
¼ cup soy sauce
1-2 tablespoons honey
1 large clove of garlic, finely minced
½ teaspoon ground ginger
2 tablespoons cornstarch
¼ cup cold water
Combine the 1 cup water, brown sugar, soy sauce, honey, garlic and ginger in a medium saucepan and set over medium heat.
In a small bowl, combine the cornstarch with the ¼ cup water and whisk until dissolved. Add the cornstarch mixture to the saucepan.
Heat the sauce until it thickens to your desired thickness. If the sauce becomes too thick, add more water to thin it out.