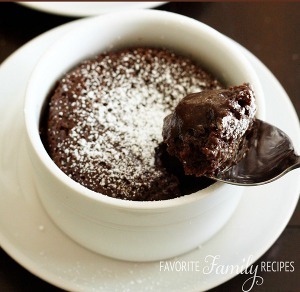 6 ounces of butter
6 ounces of baking chocolate (ideally 60% cacao)
2 whole eggs
2 egg yolks
3/4 cup sugar
1/2 teaspoon vanilla extract
1/4 teaspoon salt
1/4 cup flour
2 teaspoons to butter ramekins
powdered sugar for dusting
In a small bowl melt together chocolate and butter in the microwave. Melt for 30 seconds and stir, and repeat until chocolate and butter are melted.
Whisk together eggs and sugar until they are lighter in color and foamy. Add melted chocolate to egg mixture. Stir in vanilla extract, salt, and flour.
Spread butter in ramekins to grease the dishes. Pour batter into dishes. Cover dishes with plastic and refrigerate for about 30 minutes, you can refrigerate these for up to 4 hours. Bake at 350 degrees for approximately 12 to 15 minutes. The tops will be firm, but the insides will be melting.
Dust with powdered sugar, and serve with a scoop of ice cream if desired.