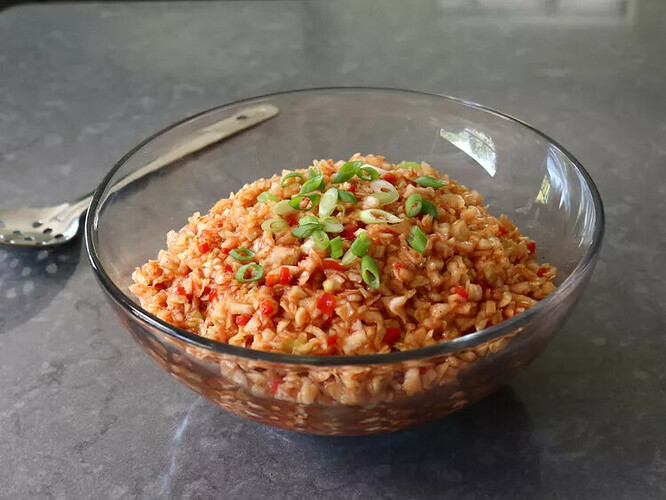 2 pounds finely chopped green cabbage
2 teaspoons kosher salt
3/4 cup ketchup
1/2 cup finely diced red bell peppers
1/4 cup apple cider vinegar
3 tablespoons white sugar
1 teaspoon smoked paprika
1/2 teaspoon freshly ground black pepper
1/8 teaspoon cayenne pepper
1 tablespoon sambal chili sauce, or to taste
1 tablespoon Sriracha hot sauce, or to taste
2 tablespoons sliced green onions, or as needed (optional)
Add finely chopped cabbage to a large bowl and sprinkle over the salt. Mix well and let sit for 30 minutes. If using fine salt, use half the amount.
Transfer cabbage to a strainer, and set aside to drain for 10 minutes.
Add ketchup, red bell pepper, cider vinegar, sugar, smoked paprika, black pepper, cayenne pepper, sambal chili sauce, and sriracha to a bowl; stir until dressing is well combined.
Use a spatula or your hand to press down on cabbage in the strainer; this will press out excess water. Discard the liquid (it is fine if cabbage is still slightly damp). Add cabbage to the bowl of dressing; mix well.
Cover slaw and refrigerate for 6 to 24 hours (preferably at least overnight), tossing occasionally. Taste before serving, and adjust salt and pepper, or add more hot sauce if needed. Sprinkle with sliced green onions.