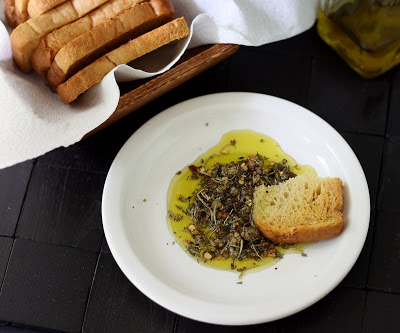 1 Tbsp crushed red pepper
1 Tbsp crushed black pepper
1 Tbsp dried oregano
1 Tbsp dried rosemary
1 Tbsp dried basil
1 Tbsp dried parsley
1 Tbsp minced garlic
1 tsp garlic powder (I use 2 tsp garlic salt in place of the two last ingredients)
1 tsp salt
In a to-go container (like one from Whole Foods, Central Market or other specialty grocery store), combine all the ingredients together. Store mixture in the refrigerator until needed.
Put 1 Tbsp of mixture per person in a small saucer with raised edges. Pour extra-virgin olive oil over the mixture, and dip warm sourdough or French bread into the mixture.