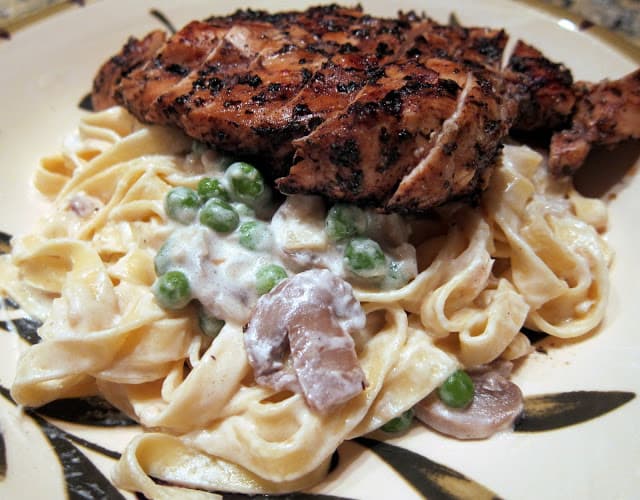 CHICKEN:
6 chicken breasts, skinned & boned
6 tablspoons balsamic vinegar
1/2 cuup extra virgin olive oil
1/4 cup fresh basil leaves
Salt & fresh ground pepper to taste
SAUCE & PASTA:
3 tablespoons butter
4 medium shallots
2 cups cream
6 oz. fresh mushrooms
1 cup frozen English peas
Salt & fresh ground pepper to taste
1 (9 oz.) package fresh fettuccine
2 oz. fresh grated Parmesan cheese
Cut breasts in half and place side by side on a platter. Drizzle with the
vinegar and oil. Cut basil leaves and sprinkle over the breasts; sprinkle
salt and pepper. Refrigerate at least 1 hour. Grill the breasts or bake in a
350 degree oven for 30 minutes. Set aside.
Peel and finely chop shallots. Saute in butter 1 minute. Add cream, salt and
pepper to taste. Boil to reduce slightly to the consistency of a light
sauce, just thick enough to coat a spoon. Add mushrooms and peas and cook
another 2 minutes. Cook pasta, drain and shake out excess water. Thinly
slice chicken. Add to pasta and gently toss with sauce, along with cheese.
Serve immediately.