Welcome to Carrabba's Secret Recipe Archive
If you like the recipes below, you'll love our America's Restaurant Recipes cookbooks - CLICK HERE for the full list of secret recipes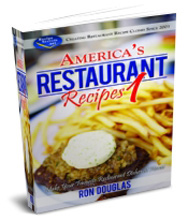 Carrabba's Italian Grill Apple Martini
2 shots vodka
1 shot DeKuyper's Sour Apple Pucker
½ shot Midori
1 slice Granny Smith apple or 1 maraschino cherry
Shake over ice for a full minute or until some crystals appear in the drink.
Strain into a chilled martini glass and garnish with the apple slice or cherry. Makes one drink.
Carrabba's Italian Grill Bruschette Carrabba
1 loaf Italian-style or French bread
1 stick butter, softened
3 - 4 cloves garlic, finely chopped
½ tspn garlic powder
3 slices Fontina cheese, thinly sliced and trimmed to fit bread slices
3 slices mozzarella cheese, thinly sliced and trimmed to fit bread slices
3 oz mushrooms, sliced, and sauteed in butter
3 slices Roma tomato, sliced ¼" thick
1½ tbsp pesto sauce (use the classic Pesto containing basil and pine nuts - available in most grocery stores)
pinch of extra-virgin olive oil
pinch of fresh basil, cut into fine strips (julienne strips)
Bake loaf of Italian bread in oven until lightly browned. Slice the bread into ½" slices and discard end pieces. Cut larger middle slices into equal halves.
Mix softened butter with chopped garlic and garlic powder. Spread garlic butter over six of the smaller pieces of bread.
Place fontina slices on 3 buttered slices of bread.
Place mozzarella on the three remaining pieces of buttered bread.
Place sauteed mushrooms on top of the fontina cheese. Top the mozzarella cheese with the tomato slices and Pesto.
Place all six slices on a baking pan and bake in a preheated 500ºF oven for 4 minutes, or until cheese has melted.
Remove from oven and top fontina-mushroom bruschette with a drizzle of olive oil.
Do not add olive oil to the tomato-pesto bruschette. Sprinkle all bruschette with the thinly sliced basil leaves.
Makes - 6 slices.
Carrabba's Italian Grill Chicken Bryan
Chicken
6 large chicken breasts
1 to 2 tbsp extra-virgin olive oil
½ tspn salt
½ tspn black pepper
8 oz goat cheese, softened to room temperature
Sun-Dried Tomato sauce
2 tbsp butter
1 tbsp finely chopped garlic
1 tbsp finely chopped yellow onion
½ cup dry white wine
¼ cup freshly squeezed lemon juice
10 tbsp cold unsalted butter, cut into small pieces
1 ½ cups finely sliced sun-dried tomatoes
¼ cup chopped fresh basil
½ tspn kosher salt
½ tspn white pepper
Prepare the Sun-Dried Tomato Sauce: Place butter, garlic, and onion in a large skillet over medium heat and saute until garlic and onion are tender and transparent.
Add white wine and lemon juice. Increase heat to medium-high and simmer to reduce by half.
Reduce heat to low. Add cold butter one piece at a time. Add sun-dried tomatoes, basil, salt, and pepper and stir to blend ingredients. Set aside.
Prepare the Chicken: Reduce charcoal briquettes to white-hot coals. Brush chicken breasts with olive oil and sprinkle with salt and pepper. Grill chicken over hot coals 15 to 20 minutes or until cooked through.
Divide goat cheese evenly between chicken breasts, placing some on each breast for the last two minutes of cooking.
Place cooked chicken on serving platter and spoon Sun-Dried Tomato
Sauce over chicken.
Serves 6.
Carrabba's Italian Grill Chicken Marsala
1 chicken breast, grilled
1 cup dry Marsala wine
½ cup (1 stick) butter
pinch of salt
pinch of black pepper
½ cup mushrooms, sauteed
Add Marsala wine, salt and pepper to a hot pan; reduce wine by 70%.
Several tbsp at a time, stir in butter until sauce is creamy.
Add hot sauteed mushrooms. Pour sauce over grilled chicken before serving.
Servings: 1
Carrabba's Italian Grill Chocolate Dream
1 box dark fudge brownie mix
¼ cup Kahlua
2 cups prepared chocolate mousse
2 cups real whipped cream
1 oz semi-sweet chocolate shavings
Prepare brownie mix according to box instructions, using the two egg-recipe and substituting milk for the water.
Line two 9" square baking pans with either parchment paper or wax paper. Spray bottoms with non-stick cooking spray. Pour equal amounts of batter into each pan.
Bake at 325°F for 25 minutes, or until a tester inserted in the center comes out clean. Allow to cool completely.
Set one brownie pan aside; invert other pan and remove brownie in one piece; return to pan upside down; remove parchment paper.
Brush the brownie evenly with ½ of the Kahlua; then top with ½ of the mousse, spreading it evenly over the brownie. Spread ½ of the whipped cream over the mousse.
Remove second brownie from pan; brush with remaining Kahlua; place it on top of other brownie; spread remaining mousse evenly over the top; spread remaining whipped cream over the mousse.
Sprinkle top evenly with chocolate shavings.
Refrigerate until ready to serve.
Carrabba's Italian Grill Cozze in Bianco
4 cups mussels
2 tbsp extra virgin olive oil
2 tbsp chopped yellow onion
2 tbsp chopped garlic
2 tbsp Pernod or other anise/licorice flavored liqueur
1 tbsp chopped fresh basil
½ lemon, juiced
lemon butter sauce:
¼ cup real butter
2 tbsp minced yellow onion
2 tbsp minced garlic
1/3 cup fresh lemon juice
2 tbsp dry white wine
Kosher salt and white pepper, to taste
2 tbsp cold butter
Soak mussels in cold water for 8 minutes; scrub with a stiff brush; remove beard with a sharp knife; rinse mussels again in cold water.
Heat oil in a skillet; add mussels; cover and cook until shells begin to open, about 2 minutes.
Add onion and garlic; toss to mix; cook, covered, for 1 minute.
Add Pernod, basil, lemon juice, and lemon butter sauce; cook for 45 seconds.
Discard any mussels that did not open. Serve in a deep bowl.
For Lemon Butter Sauce : Melt butter over low heat; remove from heat and let sit until the milk solids settle to the bottom; skim the clear butter from the top; discard sediment.
Saute onion and garlic in 2 tbsp of the clarified butter until transparent.
Stir in lemon juice and white wine and season salt and pepper.
Simmer 2-3 minutes to reduce liquid.
Remove from heat and swirl in cold butter until sauce is smooth and butter is melted.
Carrabba's Italian Sausage and Lentil Soup
1 lb Italian sausage
1 large onion, chopped
1 stalk celery, chopped
2 large carrots, chopped
1 small zucchini, chopped
6 cups chicken broth
2 x 14½ oz cans diced tomatoes, undrained
2 cloves garlic, minced
1 tspn salt
2 cups dry lentils, rinsed
black pepper, red pepper flakes, basil, oregano, parsley, thyme, to taste
Brown sausage; drain off fat.
In a large pot combine all ingredients; bring to a boil.
Reduce heat, cover.
Simmer for about 1 hour or until lentils are tender. Add water, if necessary, for desired consistency.
Sprinkle with parmesan cheese, serve.
Carrabba's Italian Grill Linguine Pescatore
3 shrimp
3 scallops
6 - 8 mussels
10 oz jar of marinara or tomato sauce of your choice
12 oz of cooked linguine
salt and white pepper, to taste
Cook all the above (except linguine) over medium heat in a covered sautee pan until done.
Toss with 12 oz of cooked linguini. Garnish and serve.
Carrabba's Italian Grill Meatballs
½ lb ground pork
½ lb ground veal
½ lb ground beef
2 large eggs, lightly beaten
¼ cup grated Parmesan cheese
4 cloves garlic, finely chopped and sauteed
1/3 cup dry bread crumbs
¼ cup finely chopped parsley
salt and freshly ground pepper
1 cup pure olive oil
Combine all the ingredients in a medium bowl, except olive oil and season with salt and pepper to taste.
Heat the oil in large saute pan over medium-high heat.
Roll the mixture into 1½" balls and fry until golden brown.
(Remove with a slotted spoon to a plate lined with paper towels.)
Carrabba's Italian Grill Pappardelle Campagnolo
¼ cup extra virgin olive oil
½ lb Italian sausage
½ cup finely chopped yellow onion
2 medium garlic cloves, finely chopped
1 medium red bell pepper, ¼" julienne
¼ cup dry white wine
4 cups canned whole peeled tomatoes (with their juice, finely chopped)
pinch of salt and freshly ground black pepper
pinch crushed red pepper
2 tbsp freshly torn basil leaves
¼ cup freshly grated, Pecorino Romano cheese
4 oz goat cheese (crumbled)
1 lb papardelle pasta
Remove sausage from the casing and break into coarse pieces (about 5-6 pieces from each link). Put olive oil in a large skillet over a medium flame. Add sausage and cook until the sausage has browned slightly. Add onion and red bell peppers and cook until they soften and onion turns a rich golden color. Add the wine and let evaporate for 3 minutes. Add garlic, and cook 1 minute more.
Add the tomatoes and season lightly with salt and pepper and crushed red pepper flakes. Raise heat and bring sauce to a boil, stirring frequently. Reduce heat and let simmer until the sauce has thickened. Stir in basil and set sauce aside.
Meanwhile bring 4 quarts of water to a boil in a large pot, add 1 tbsp of salt and drop in the pasta all at once, stirring well.
When the pasta is almost done, return the skillet with the sauce to a medium heat. When the pasta is al dente, drain it and toss it with the sauce, adding the grated cheese and tossing again. Place the pasta in a serving platter and top with the crumbled goat cheese.
Serve at once.
Carrabba's Italian Grill Parmesan Dressing
¼ cup milk
½ cup mayonnaise
¼ cup grated parmesan cheese
1 tspn white wine vinegar
¼ tspn Worcestershire sauce
Gradually blend milk into mayonnaise.
Mix in cheese, vinegar and Worcestershire sauce. Chill.
Serve on tossed salad greens.
Makes ¾ cup
Carrabba's Italian Grill Pollo Rosa Maria
4 chicken breasts, split for stuffing
4 slices prosciutto ham
½ cup Fontina cheese
lemon butter:
½ cup clarified butter
3 cloves garlic
½ small yellow onion, diced
¼ cup white wine
4 tbsp unsalted butter
½ tspn white pepper
½ tspn salt
topping:
8 oz sliced mushrooms
½ cup fresh sweet basil, chopped
lemon butter (above)
1 lemon, juiced
For Chicken: Open chicken breasts and place butterfly-style on grill over white-hot coals of live oak and pecan wood.
Grill 3-5 minutes per side or until cooked through. Remove from grill.
When chicken is cool enough to handle, hold breast halves together and stuff each breast with one slice of prosciutto and 1/8 cup Fontina cheese.
Secure with wooden picks. Set aside in a warm place.
For lemon butter and topping: In a large saute pan over medium heat, combine clarified butter, garlic, and onion and saute until tender.
Deglaze pan with white wine.
Add unsalted butter, salt, and pepper.
Add mushrooms to lemon butter and saute 1 to 2 minutes or until cooked.
Add basil and lemon juice and stir to combine.
Place chicken on a serving platter and top with mushrooms in lemon-basil butter and serve.
Yields 4 servings.
Carrabba's Italian Grill stuffed mushrooms Parmigiana
12 - 15 large mushrooms
2 tbsp butter
1 medium onion, chopped finely
2 oz diced pepperoni
¼ cup finely chopped green pepper
1 small clove garlic, minced
½ cup finely crushed Ritz crackers, about 12 crackers
3 tbsp grated Parmesan
1 tbsp chopped parsley
½ tspn seasoned salt
¼ tspn dried oregano
1/3 cup chicken broth
Preheat oven to 325°F.
Wash mushrooms and remove stems. Finely chop stems and reserve.
In a large skillet, melt butter and cook onion, pepperoni, green pepper, garlic, and chopped mushroom stems until tender but not brown.
Add crackers, parmesan, parsley, salt, oregano, a dash of pepper, and mix well.
Stir in broth.
Spoon mixture into mushroom caps, heaping tops.
In a shallow baking pan with ¼" water covering bottom of pan, place stuffed mushrooms.
Bake uncovered about 25 minutes until heated thoroughly.