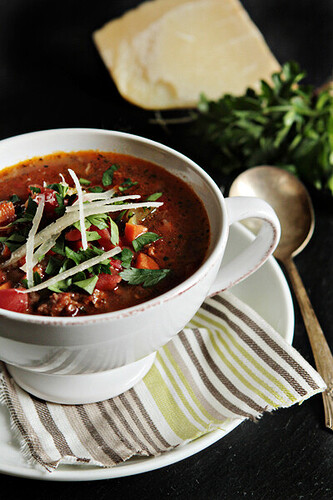 1 pound green lentils
3 tablespoons olive oil
1 lb ground Italian sausage (You can also use ground Italian turkey sausage)
1 cup diced onion (about 1 large)
1 ½ cups diced celery (about 4 stalks)
1 ½ cups diced carrots (about 3-2 large)
1 ½ cup diced zucchini (about 1 small)
1 tablespoon minced garlic (2 large cloves)
2 teaspoons kosher salt
1 teaspoon freshly ground black pepper
1/2 teaspoon red pepper flakes
1 teaspoon dried basil
1 teaspoon dried oregano
1 teaspoon dried thyme
6 cups chicken broth
2 (14 1/2 ounce) cans diced tomatoes, undrained
grated Parmesan
fresh parsley
In a large bowl, cover the lentils with boiling water and allow to sit for 15 minutes. Drain.

In a large stockpot over medium heat, heat the olive oil and add in the Italian sausage. Brown the sausage until it is cooked through.

Add in the onions, celery, carrots, zucchini, garlic, herbs and spices, cook for about 15 minutes, stirring often.

Add the chicken stock, canned tomatoes, and drained lentils, cover, and bring to a boil.

Reduce the heat to low and simmer uncovered for 1 ½ hours, or until the lentils are cooked through and tender, stirring occasionally. Add water as needed to adjust the consistency of the soup. We tend to prefer ours a little on the thick side, so I add in about 3 cups half way through the cook time.

Check the seasonings – add more salt and pepper to taste. Serve sprinkled with grated Parmesan and fresh parsley.