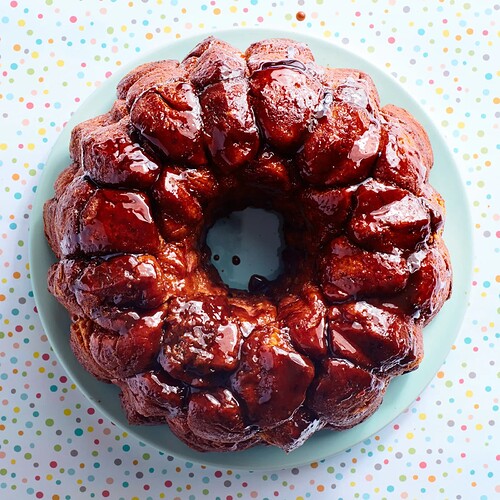 1 1/2 teaspoons instant yeast
1 1/2 teaspoons fine sea salt
3 1/3 cups bread flour, plus more for surface
1 1/2 cups sugar, divided
Nonstick vegetable cooking spray
2 teaspoons ground cinnamon
1 teaspoon ground ginger
1 teaspoon freshly ground black pepper
1/2 teaspoon ground cardamom
1/2 teaspoon ground cloves
1/2 cup pecans
1/2 cup pumpkin seeds (pepitas)
1 cup prepared or homemade caramel sauce
Pulse yeast, salt, 3 1/3 cups flour, and 1/2 cup sugar in a food processor until combined. With the motor running, add 1 1/4 cups 100°F–110°F water and process until a ball forms, about 30 seconds.
Turn dough out onto a lightly floured work surface; it should look slightly shaggy and stick to the counter (if dough is too dry, add more warm water by the teaspoonful until tacky). Knead until dough becomes smooth and elastic, about 5 minutes.
Lightly coat a large bowl with nonstick spray. Form dough into a ball and transfer to bowl, turning to coat. Cover bowl with plastic wrap, then lay a kitchen towel over. Let dough rise in a warm, draft-free area until doubled in volume, about 2 hours.
Preheat oven to 350°F. Coat Bundt pan with nonstick spray. Mix cinnamon, ginger, pepper, cardamom, cloves, and remaining 1 cup sugar in a large bowl.
Toast pecans and pumpkin seeds on a rimmed baking sheet, tossing occasionally, until golden brown, 9–11 minutes.
Punch down dough and transfer to a floured work surface. Roll into 1" balls (you should have about 25). Working in batches, toss in spiced-sugar mixture until coated.
Arrange one-third of dough in pan. Top with one-third of pecan mixture, then sprinkle with 1 Tbsp. spiced sugar. Repeat with remaining dough, nuts, and spiced sugar; discard remaining spiced sugar. Pour caramel sauce over. Cover pan with plastic wrap, then lay a kitchen towel over. Let dough rise in a warm, draft-free area until almost doubled in volume, 40–45 minutes.
Cover pan with foil and bake bread 40 minutes. Remove foil and continue to bake until top is glistening and well browned and bread is cooked through, about 20 minutes more. Invert immediately onto a platter. Let cool 10 minutes.
Do Ahead
Monkey bread can be assembled 12 hours ahead. Cover with plastic wrap and chill. Let come to room temperature, about 2 hours, watching for second rise (rolls should almost double in volume), then bake.