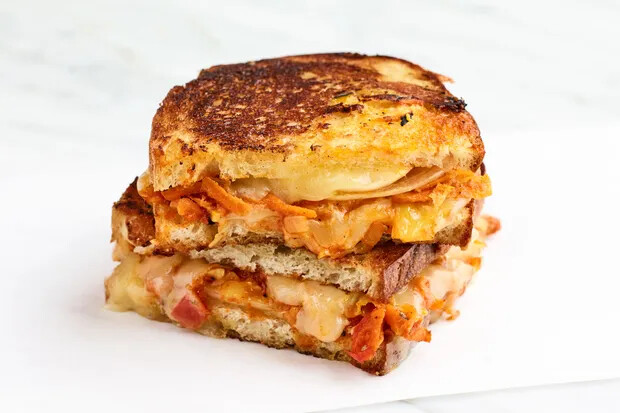 2 tablespoons mayonnaise
2 slices good-quality sandwich bread
¼ cup grated sharp white Cheddar cheese
¼ cup Chakalaka or any relish or chutney of your choice
2 thin slices onion (any type)
Set a cast-iron pan or other heavy skillet over medium-high heat. Spread 1 tablespoon of the mayonnaise on one side of each slice of bread. Place one slice of bread mayonnaise-side down in the skillet and top it with half the cheese, then top with the chakalaka and onion. Sprinkle the remaining cheese on top of the onion, then place the second piece of bread, mayonnaise-side up, on top.
Cover the pan and cook until the bottom of the sandwich is browned, about 2 minutes. Give the sandwich a good press with a spatula and then carefully flip it over, cover, and cook until the second side is browned and the cheese has melted, about 2 minutes. Serve immediately.