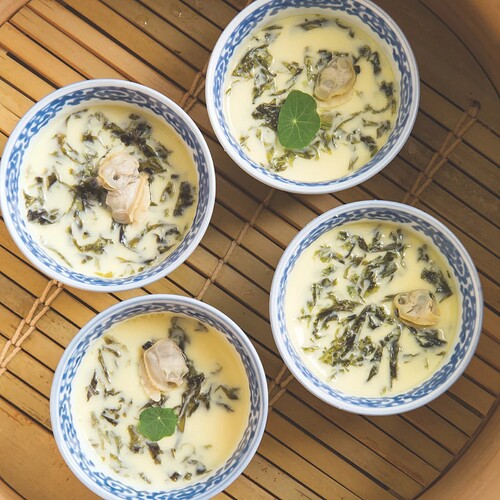 3 dried shiitake mushrooms soaked in 1 cup (240 ml) water overnight
2 Tbsp. dried wakame or ½ cup (20 g) fresh wakame
8 medium Manila clams or 16 littleneck clams
2 cups (480 ml) filtered water
2 Tbsp. sake
3 large eggs
1½ tsp. mirin
1½ Tbsp. usukuchi shoyu (light-colored soy sauce)
¼ tsp. sea salt (optional)
6 mitsuba (Japanese parsley, leaves only), chervil, or Italian parsley (leaves only)
6 nasturtium leaves (optional)
Drain the shiitake mushrooms and slice to ⅛ inch thick. If using dried wakame, soak it in 2 cups of water for 15 minutes, then drain. If using fresh wakame, rinse it well and drain. Cut the wakame into ½-inch pieces. In a medium pot, combine the clams, water, and sake and cook over medium-high heat until the clams open, about 4 minutes. Remove the clams and reserve the cooking liquid. Strain the cooking liquid through a fine-mesh strainer lined with cheesecloth or paper towels. Reserve 1¾ cups of the dashi (stock). Let cool to room temperature. Remove the clams from the shells and discard the shells. Place the clam meat in a small bowl.
Bring a stackable steamer to a boil over high heat and then keep it at a simmer.
In a medium bowl, combine the eggs, mirin, and soy sauce. Taste and add the salt if needed. Be careful not to beat the egg mixture too much; doing so will cause air bubbles to form on the surface of the custard. Add the reserved liquid and then run the egg mixture through the strainer. Divide the egg mixture, clams, shiitakes, and wakame into the ramekins.
Cover each ramekin with foil. Place the ramekins on the steamer rack and set the rack back on the pot. Steam the custards for 2 minutes over high heat, then reduce the heat to low and continue to steam for 6 minutes, or until the custard sets.
Remove and discard the foil. Garnish with the herbs of your choice. Serve the custard warm or cold with a spoon.