Today's I have a secret recipe for the French fry recipe that put Checker's and Rally's on the map. They are crispy and famously seasoned. These fries make a great addition to any meal and are down-right addictive.
Enjoy!
=-=-=-=-=-=-=-=-=-=-=-=-=-=-=-=-=-=-=-=-=-=-=-=
Burn the Fat Body Transformation
Learn Dozens Of Hard-Learned And Closely-Held Tricks And Tactics You Won't Find Anywhere Else… Go Here
=-=-=-=-=-=-=-=-=-=-=-=-=-=-=-=-=-=-=-=-=-=-=-=
=-=-=-=-=-=-=-=-=-=
New Secret Recipe
=-=-=-=-=-=-=-=-=-=
Checker's(™) French Fries
Like this recipe? Get our secret recipe cookbooks on sale – Go Here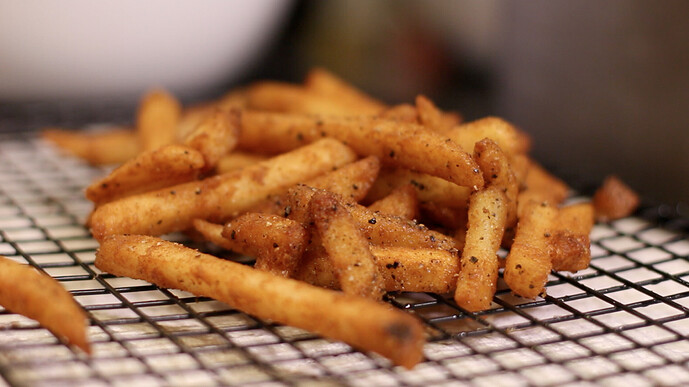 2 lbs frozen plain French fries
plain flour
BATTER
1 cup boxed pancake mix
2 cups club soda
SEASONING
1/2 teaspoon black pepper
1/2 teaspoon ground ginger
1/4 teaspoon dry mustard
2 tablespoons seasoning salt
Prepare batter.
Combine seasoning mixture and store in a tightly covered container.
Allow 1 teaspoons seasoning for each cup of prepared batter.
POTATOES- Without thawing, open bag of fries and dust them lightly but evenly in flour, letting them dry on waxed paper lined cookie sheet for a few minutes.
Coat the floured French fries evenly in the batter and fry in small portions at a time in 385 oil at least 2″ deep in an electric fry pan.
Turn fries once to brown evenly.
Remove with tongs to drain on paper towel lined plate.
Serve at once.
Source: Recipe Secrets Forum
Until Next Time… Be Well!
Kind Regards,
RSN