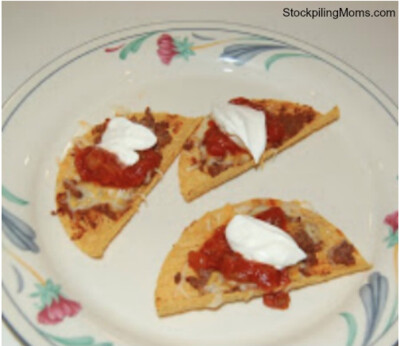 1 box taco shells
1/2 pound ground beef
1 can refried beans
2 TBSP taco seasoning
shredded cheddar cheese
sour cream
salsa
jalapeno peppers - optional
Brown ground beef and rinse with water to remove excess fat.
Return to skillet and mix 1 TBSP water with 2 TBSP taco seasoning.
Heat 1/2 can re-fried beans and mix with ground beef mixture.
Heat taco shells according to directions.
Break taco shells in half.
Spread refried bean/meat mixture over shells.
Sprinkle cheese on shells and return to the oven to melt.
Spoon salsa and sour cream on tacos.
Add jalapenos if desired.
Serve with Mexican Rice and Remaining Re-fried Beans for a complete meal.