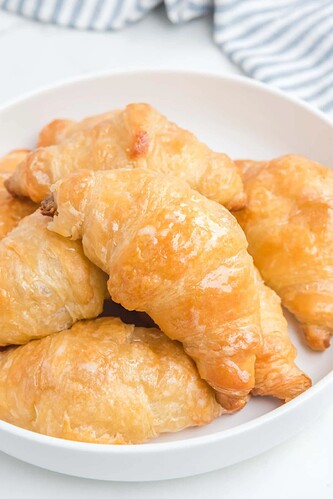 Honey Butter Recipe
1 cup Powdered Sugar
1 cup Butter
1 cup Honey
Mix all together and heat to melt.
Honey Croissants
2 (1/4-ounce) packages active dry Yeast or 5 teaspoons active dry yeast
3/4 cup warm Water
3 1/2 cups all-purpose Flour, divided
1/2 cup Water
1 1/2 tablespoons Honey
2 cups Butter, chilled
1 large Egg
1 tablespoon Water
Combine yeast and warm water, stirring to dissolve and activate the yeast. Let stand about 10 minutes.
In a large mixing bowl, mix together yeast mixture, half of the flour, 1/2 cup water, and honey.
Beat until smooth then cover the bowl with a towel and let stand for 1 1/2 hours.
With a pastry knife or two butter knives, cut butter into remaining half of flour.
Add yeast mixture and fold together to just moisten flour without breaking up the butter pieces.
Turn dough out onto a lightly floured surface and pat down, rolling into a 18 x 12-inch rectangle.
Using a spatula, fold one-third of the dough toward the center, then fold another one-third from the other side. Lift the folded dough off the work surface and scrape the surface clean. Sprinkle the work area with flour and repeat the rolling and folding 3 more times. If the dough becomes too soft, chill until firm again.
Roll dough into a thin rectangle then cut diagonally to form 12 triangles; roll each triangle from the wide end to the point.
Place on ungreased baking sheets, curving the ends into a crescent shape.
Beat egg with 1 tablespoon water and brush on top of the croissants.
Let rise for about 1 hour.
Preheat oven to 375°F.
Re-glaze croissants with egg/water mixture then bake until puffed and brown, about 10 minutes.
Bake the croissants for 15-19 minutes or until they are fully puffed up and browned.
Remove from oven when the croissants are done.
Allow to cool for 2 to 3 minutes, then drizzle the warm honey butter over the warm croissants.
Notes
The butter and the folding are what make these croissants so flaky, so don't let the butter get so soft it will mix into the dough, and don't skimp on the folding process.
If you want easy use a package of frozen croissants.