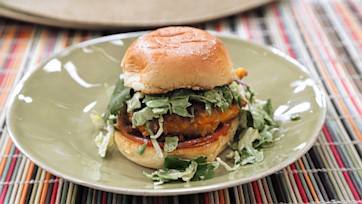 Chicken
3 chicken breasts boneless skinless halved
1-2 cups flour
3 eggs beaten
2 cups crunchy cheese puffs crushed
2 tablespoons butter
2 tablespoons olive oil
1/4 cup asiago cheese grated
6 slices Canadian bacon
Jalapeno Aioli
2 egg yolks
1 jalapeno chopped
1 lime
2 teaspoons mustard
1 clove garlic
1 cup olive oil
Brussels Sprout Slaw
8 ounces Brussels sprouts thinly sliced
1/2 red onion thinly sliced
1 bunch parsley leaves, chopped
2 tablespoons chives chopped
2 tablespoons pickled jalapenos chopped
6 slider-sized potato buns
6 pieces Canadian bacon
1 bunch cilantro stems removed
Kosher salt and freshly ground black pepper
In three separate dishes, separate the flour, eggs and cheese puffs. Dredge each piece of chicken in the flour, then in the eggs, then in the crushed cheese puffs.
Place a large skillet over medium heat. Add the oil and butter. Once melted, add the chicken, making sure not to crowd the pan. Cook for 4-5 minutes. Flip and cook for another 4-5 minutes. Remove to a paper towel-lined plate. Top chicken with Asiago cheese.
For the Jalapeno Aioli: in a food processor. add the yolks, jalapenos, lime juice, mustard, garlic and a pinch of salt and pepper. Pulse to combine. Starting with a few drops at a time, slowly add the oil in a steady stream, with the food processor running. Remove to a bowl and set aside.
For the Slaw: In a large bowl, add the Brussels sprouts, onion, parsley, chives, lime juice, jalapenos, salt and pepper to taste. Toss to combine.
Meanwhile, preheat a griddle or skillet and add some butter. Toast the buns and sear the Canadian bacon until charred on both sides.
To assemble, top the bottom bun with a piece of Canadian bacon, a drizzle of aioli, a piece of chicken, some slaw and a pinch of cilantro. Top with bun and serve.
The Chew