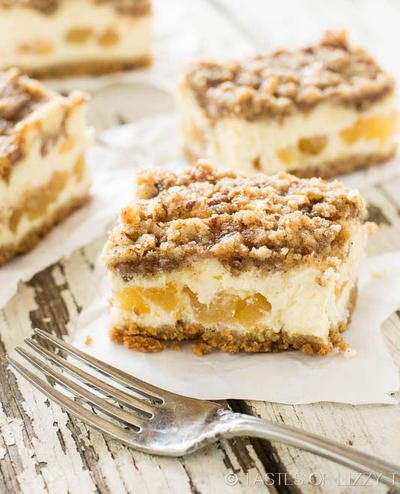 Crust:
1 1/2 cups crushed cinnamon graham crackers (about 1 sleeve)
6 tablespoons butter, softened
Cheesecake:
16 oz cream cheese, softened
2 eggs
1/2 cup sour cream
1/2 cup sugar
1 1/2 teaspoons vanilla
1 1/3 cups apple pie filling (with the apples chopped into small pieces)
1/3 cup caramel topping
Streusel:
4 tablespoons (1/2 stick) butter, softened
1/2 cup packed brown sugar
1/3 cup walnuts
1/2 cup flour
1 teaspoon cinnamon

Line an 8x8 baking pan with tin foil. In a small bowl, combine the crushed graham crackers and butter. Press them into the bottom of the baking pan. Bake at 350 for 8 minutes. Remove from the oven and set aside to cool.
In a stand mixer with the paddle attachment, beat the cream cheese for 1 minute or until creamy and smooth. Add eggs, sour cream, sugar and vanilla. Beat just until smooth and creamy. Spread 1/2 the batter over the cooled graham cracker crust. Drop the apple pie filling by teaspoons over the cheesecake layer. Spread the remaining batter over the apples. Drizzle the caramel topping over the cheesecake. Then take a knife and swirl it gently into the batter.
In a small bowl, combine the ingredients for the streusel. Spread the streusel evenly over top the cheesecake.
Bake at 350 for about 45-50 minutes or until the cheesecake has set and the edges are lightly browned.
Cool completely, then store the cheesecake in the fridge.

16 bars