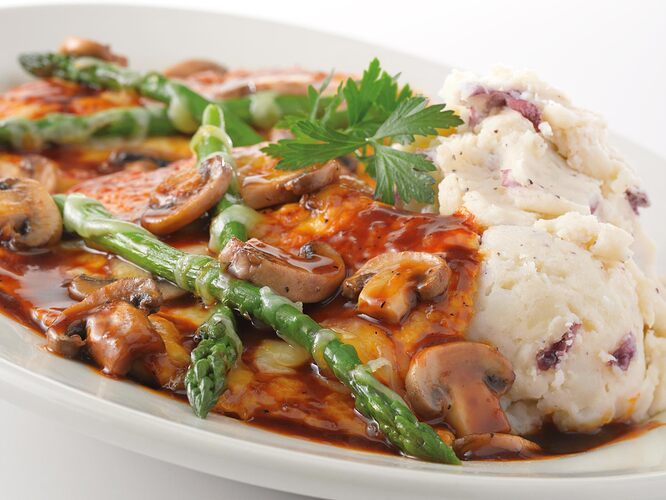 1 pound chicken breast
1/2 teaspoon salt
1/2 teaspoon black pepper
1 tablespoon butter
1 tablespoon vegetable oil
1 tablespoon butter
8 ounces mushrooms (white or baby Portobello mushrooms)
8 ounces beef stock
2 cups Madeira wine
2 tablespoons butter
1 tablespoon corn starch
1 tablespoon water
4 to 6 ounces Mozzarella cheese (fresh is best)
8 asparagus spears steamed
mashed red potatoes
Slice chicken breasts in half horizontally. Place cut chicken breast onto a sheet of plastic wrap, and cover the chicken with plastic wrap, use a meat pounder to flatten out chicken to 1/4 inch thickness. Flatten out remaining pieces of chicken with a meat pounder. Season chicken with salt and pepper.
In a large skillet over medium heat add butter and vegetable oil. When the butter begins to foam slightly add chicken. Be careful not to over crowd the pan. You may need to cook the chicken in batches. When the chicken's edges turn white, flip over, and cook chicken on the other side. The chicken should be slightly browned. Remove chicken from the pan.
Add 1 tablespoon of butter to the pan, and add mushrooms. Cook the mushrooms for a couple of minutes. The mushrooms will begin to brown and sear. Remove mushrooms from the pan.
Add 2 cups of Madeira wine in the pan, scrape the browned bits up from the bottom of the skillet. Add beef broth to the wine, stir to blend well. Cook the sauce until it reduces by 1/3. When the sauce has reduced add a slurry of 1 tablespoon corn starch and 1 tablespoon water. Stir to blend well cook for about 2 minutes. Add two tablespoons of butter to the sauce and stir well. Return mushrooms to the sauce.
To serve: place chicken breast on a pile of mashed potatoes. Spoon sauce over the chicken, and add a slice or two of the Mozzarella cheese on top of the chicken. Place the chicken under the broiler until the cheese browns if desired. You can place the chicken with cheese in a hot oven to warm the cheese. Garnish with Asparagus spears.