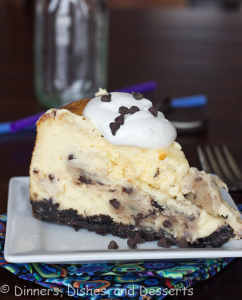 Crust
2/3 package of Oreos, crushed
4 Tbls butter, melted
Cheesecake
2 1/2 pounds cream cheese, softened - cut into 1 inch chunks
1 1/2 cups sugar
1/8 tsp salt
1/3 cup sour cream
2 tsp lemon juice
2 tsp vanilla
6 eggs, plus 2 egg yolks
1 Tlbs butter, melted
Cookie Dough
1/2 cup butter
3/4 cup brown sugar
1 tsp vanilla
2 cups flour
1 (14 oz) can sweetened condensed milk
1 cup chocolate chips
Prepare the Cookie Dough :In an electric mixer, beat together butter and sugar. Add vanilla. With mixer on low, slowly add in the flour, until completely incorporated. It will be very dry, that is ok. Beat in milk until well combined. Stir in chocolate chips. Roll into small 1 inch balls. Place in freezer for 45 minutes, or until completely frozen.
Prepare the crust: Preheat oven to 325 degrees. Mix together the cookie crumbs and the butter. Press into the bottom of a 9 inch springform pan. Use the bottom of a measuring cup to firmly press it into the bottom, keeping it off the sides. Bake for 10 minutes. Let cool completely.
Prepare the Cheesecake: Increase oven heat to 500 degrees. Using an electric mixer beat cream cheese on low until broken up, about 1 minute. Scrape the sides, and add 3/4 cup of sugar, and salt. Mix over low for about a minute, until well combined. Beat in the remaining 3/4 cup of sugar.
Scrape the sides, add sour cream, lemon juice, and vanilla. Mix over low for 1 minute. Mix in egg yolks until thoroughly combined. Add the whole eggs, 2 at a time, beating for about 1 minute after each addition. Stir in about 1/2 of the frozen cookie dough balls, until evenly distributed.
Gently brush the top of the baked and cooled crust with the 1 Tbls of melted butter. Place springform pan on a baking sheet. Pour filling into the crust.
Bake for 10 minutes. Without opening the oven door reduce the temperature to 200 degrees. Bake for about 90 minutes, or until the center of the cheesecake is 150 degrees.
Let cool for 5 minutes. Then run a knife around the edge to loosen the sides. After 2 hours wrap in plastic and refrigerate until cold, about 3 hours.
To remove the mold wrap a warm kitchen towel around the pan, and let set for 1 minute. Gently remove the sides. Cut into 12 slices, and top with whipped cream to serve.