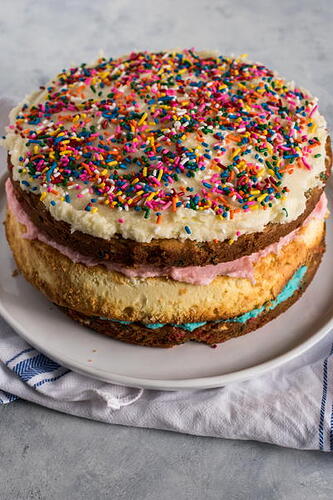 Cake:
8 tablespoons unsalted butter, room temp
3/4 cup sugar
1/4 cup light brown sugar
1 egg
3/4 cup milk
1/4 cup sour cream
1 tablespoon vanilla
2/3 cup flour
1/2 teaspoon baking powder
1/4 teaspoon baking soda
1/2 teaspoon kosher salt
2/3 cup rainbow sprinkles (Jimmies)
Cheesecake:
8 tablespoons unsalted butter, room temp
1/2 cup sugar
16 ounces cream cheese, room temp
1 1/2 ounce Cook and Serve vanilla pudding
2 eggs
1 teaspoon baking powder
Buttercream Frosting:
1 pound unsalted butter, room temp
6 cups confectioners' sugar
1/2 cup heavy cream
Heat oven to 350 degrees. Grease 2 9-inch baking pans then line with parchment paper.
In the bowl of a stand mixer beat the butter, sugar and brown sugar until creamy.
Add the egg, milk and sour cream and mix well. Add the vanilla and mix.
Add the flour, baking powder, baking soda and salt and mix until blended in.
Gently fold in the sprinkles.
Divide the batter between the 2 cake pans.
Bake for 30-35 minutes until cakes are golden and done when a wooden skewer inserted in the middle of the cake comes out clean.
Let cakes cool in the pans for 10-15 minutes then carefully invert to a cooling rack to fully cool.
For the cheesecake layer, lower the oven to 325. Grease a 9-inch cake pan then line with parchment paper.
Lightly grease the parchment paper.
In the bowl of a stand mixer cream the butter with the sugar using the paddle attachment.
Add in the cream cheese a bit at a time until fully incorporated and smooth.
Add the eggs one a time. Mix in the pudding and baking powder until blended in.
Pour the batter into the prepared cake pan.
Bake for 55-60 minutes until the top is set and golden.
Let the cheesecake cool then cover the cake pan with plastic wrap and foil and place in the freezer until frozen.
When the cheesecake is ready to assemble prepare the buttercream.
In the bowl of a stand mixer beat the butter with the whisk attachment until light and fluffy.
Add the confectioner' sugar a bit at a time until incorporated.
Add the cream and beat until fluffy.
Evenly divide the buttercream into 3 bowls.
Tint one pink, tint one blue and leave one white.
Place one cake layer on a cake stand or plate. Frost with the blue buttercream.
Remove the cheesecake from the freezer and remove from the cake pan.
Place the cheesecake layer on top of the cake layer and frost with the pink buttercream.
Add the second cake layer on top and frost with the white buttercream.
Top with more rainbow sprinkles.
Keep cake chilled and bring to room temp to serve.