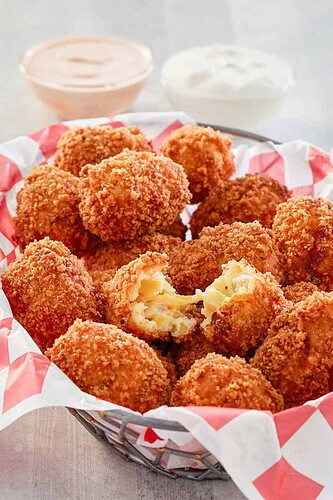 Potato Mixture:
2 cups cold lumpy mashed potatoes
1/2 cup cream cheese
1/2 cup grated cheddar cheese
1/2 cup bacon cooked & chopped to about ½-inch
1 egg beaten
1 bunch green onions thinly sliced
1 tablespoon cornstarch
1 tablespoon all-purpose flour
1/2 teaspoon coarse salt
1/2 teaspoon ground black pepper
Breading:
2 cups all-purpose flour
6 eggs beaten with 1 tablespoon of cold water
4 cups panko breadcrumbs
Cooking and Serving
canola or vegetable oil for frying
coarse salt to taste
1/2 cup sour cream for dipping
1/2 cup sriracha mayo for dipping
Potato Mixture:
Place the potatoes, cheeses, bacon, green onion and egg into a large bowl and mix together with a rubber spatula.
Sprinkle the cornstarch, flour, salt and pepper over the mixture, gently folding to combine.
Line a baking sheet (that will fit in your freezer) with foil and sprinkle lightly with flour.
Scoop the potato mixture, into walnut size scoops onto the prepared baking sheet spaced evenly apart. Place into the freezer for approx. 30 minutes to allow to harden but not freeze completely.
Remove from freezer and gently roll into "tot shape". Place back into freezer to freeze completely.
Breading:
Place the flour, egg & panko breadcrumbs into three separate containers.
Remove the tots from the freezer and working in batches, dredge into the flour shaking off any excess, then dip into the egg draining off any excess and finally dredge into the breadcrumbs coating completely. Repeat until all tots are breaded.
Cooking and Serving
Heat oil to 350°F.
Working in batches, fry tots for 1-1/2 to 2 minutes or until hot throughout.
Remove from oil and drain over paper towels, seasoning with salt while still hot.
Serve with sour cream and sriracha mayo for dipping.