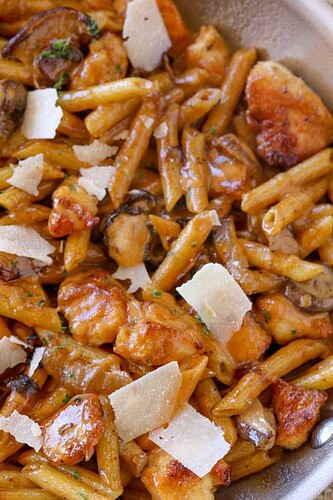 1 (1 pound) box penne pasta
2 tablespoons olive oil
3 large boneless skinless chicken breasts, diced
1 large red onion, finely chopped
1(4 ounce) can sliced mushrooms, drained or 1/2 cup rehydrated shiitake mushrooms
2 tablespoons minced garlic
1 cup madeira wine
1 cup heavy cream
1/2 cup sour cream
1-2 tablespoon butter
.
Cook pasta according to package directions. Place cooked and drained pasta
in separate bowl.
Heat oil in skillet and saute chicken, onion, mushrooms, and garlic.Remove
from skillet;set aside. Add wine to same skillet and simmer over medium heat
until liquid is reduced by two-thirds. Add heavy cream and sour cream and
heat through.
Remove from heat and swirl in butter. Toss with pasta.
Yields 1 large bowl