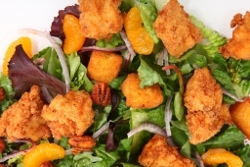 6 chicken breast halves
1/2 cup teriyaki marinade
16 cups romaine and leaf lettuce
1 cup cilantro
2 15 ounce cans of black beans, rinsed
2 cans of whole kernel corn, drained
3 cups jack cheese, grated
3 cups toasted corn tortilla strips
3 cups diced seeded tomatoes
Marinate chicken 1 hour in teriyaki marinade.
Broil and baste chicken approximately 15 minutes; cool, then cut into bite size pieces or shred.
Tear greens; add cilantro and 1 cup each of beans and corn. Dress with Lime Dressing.
Lime Dressing
1/2 teaspoon lime zest
2 tablespoons lime juice
1 tablespoon snipped cilantro
1/4 teaspoon salt
1 clove garlic, crushed
1/2 cup olive oil
Process until thick.