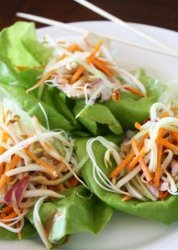 6 medium to large butter lettuce leaves (also know as boston bib or just bib lettuce)
8 ounces cooked skinless chicken breast, cut into thick strips (optional)
1 large carrot, julienned
1/2 cup bean sprouts
1/2 cup brown rice noodles
1/2 cup cucumber, sliced and quartered
1/4 cup red onion, thinly sliced
1/4 cup rice vinegar
1 tsp raw honey or coconut nectar
pinch of sea salt
2 tbsp Savory Peanut Dipping Sauce
In a small bowl mix together rice vinegar, honey and a pinch of sea salt. Add cucumber and red onion. Place in refrigerator for 1 hour.
Fill a medium sauce pan about halfway with water. Bring to a boil and add brown rice noodles. Remove from heat and let the noodles sit for about 2 – 4 minutes or until they are tender. Drain water and place rice noodles in a small bowl.
Remove the hard stems from the butter lettuce and place on a large platter. Place carrots and bean sprouts in small dishes and add to platter. Remove cucumber mixture from refrigerator and position on platter. Next add both the chicken and noodles to the platter.
If you made your peanut sauce beforehand and it's refrigerated you'll want to warm it up a little. Place in the microwave for about 10-15 seconds. Add sauce dish to the platter.
To serve your lettuce wraps, use one lettuce leaf and fill with carrots, bean sprouts, cucumber mixture, noodles, chicken and top with peanut sauce.
Savory Peanut Dipping Sauce
2 tbsp smooth natural peanut butter
2 tbsp low sodium tamari or soy sauce
2 tsp rice wine vinegar
1 clove garlic, minced
red pepper flakes (optional)
1 tsp sesame oil (optional)

Mix together all the ingredients until smooth.

Makes 2 servings