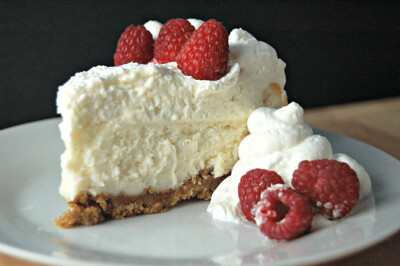 Graham Cracker Crust
1½ cups finely crushed graham crackers
¼ cup light brown sugar
1 stick salted butter, melted
1 egg yolk, beaten
½ tsp vanilla extract

Cheesecake Filling
16 oz. cream cheese, softened
2 sticks butter, softened
1 cup granulated sugar
1 cup sour cream
2 T corn starch
1 vanilla bean pod, beans extracted

White Chocolate Mousse
4 oz. white chocolate baking squares
1 cup heavy cream
3 T powdered sugar
4 oz. cream cheese, softened

Graham Cracker Crust
Preheat oven to 375° and line a spring-form pan with parchment paper.
In a medium bowl, combine crushed graham crackers and brown sugar and mix with a fork
Add the melted butter, egg and vanilla extract and mix until fully incorporated
Press into the bottom of the lined spring-form pan and bake for 8-10 minutes
Remove from oven and let cool

Cheesecake Filling
Preheat oven to 320°
In a stand mixer, beat the cream cheese, butter and sugar until light and fluffy
Add the sour cream, corn starch and vanilla beans and mix until the mixture is smooth and creamy
Pour over the graham cracker crust and bake for one hour. The filling will be jiggly in the center when you remove from oven
Remove from the oven and place on a heat safe surface for one hour. Do not remove the springform pan. You will remove it right before serving!
Place into the refrigerator overnight to set, or at least 6 hours

White Chocolate Mousse
Place mixing bowl in freezer or refrigerator to chill
Melt white chocolate squares and let cool
In the cold mixing bowl, beat the heavy cream until it forms soft peaks, gradually add powdered sugar and continue whipping until it forms stiff peaks
Place in refrigerator to keep chilled
In another bowl, beat the melted white chocolate and cream cheese together with a spatula until light and fluffy.
Take the whipped cream and stir it into the white chocolate and cream cheese mixture. You do not have to be gentle while stirring. Don't be afraid to stir vigorously!
Place back into the refrigerator to chill overnight. Keep refrigerated until you are ready to put the mousse onto the cheesecake
Once you are ready to serve, spread the mousse over the top of the cheesecake and then remove the springform pan and the parchment paper
Top with whipped cream, berries, chocolate or all three!