Cheesecake Lovers Cookbook

Cheesecake is a Rich and Delicious Melt In Your Mouth Dessert! Smooth and Sinful, cheesecake is the most tasteful and unforgettable way to end a dinner meal. Now with the Cheescake Lovers Cookbook, you can easily treat yourself to a delicious homemade slice of heaven or try some of these gourmet cheesecake recipe ideas with friends or family.
Discount Cookbook Club Members Get This Cookbook Free (password required):

(The cookbook club is a paid subscription that is separate from our free recipe forums)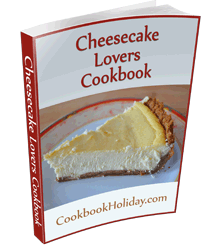 This Wonderful Collection includes 90 cheesecake recipes that are sure to delight your senses.
Chocolate Velvet Cheesecake
Cookies and Cream Cheesecake
Creamy Chilled Cheesecake
Chocolate Raspberry Cheesecake
Arizona Sunset Cheesecake
Chocolate Chip Cheesecake Supreme
Cappuccino Cheesecake
Chocolate Mint Meringue Cheesecake
Cherry Cheesecake
Chocolate Turtle Cheesecake
Chocolate Orange Supreme Cheesecake
Cocoa-Nut Meringue Cheesecake
& Many More!
- Non Members Can Sign Up Here
- Or To Order This Title Separately Click Here