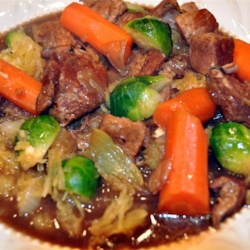 1 (2 1/2 pound) boneless pork shoulder, cut into 2-inch cubes
salt and ground black pepper to taste
1 tablespoon vegetable oil
1 tablespoon butter
1 large onion, chopped
2 cloves garlic, minced
1 tablespoon all-purpose flour
1 bay leaf
3/4 teaspoon caraway seed
1 (12 fluid ounce) bottle dark beer such as Guinness®
2 cups chicken broth
3 carrots, cut into 1-inch pieces
2 stalks celery, cut into 1-inch pieces
1/4 cup chopped fresh flat-leaf parsley
3 tablespoons balsamic vinegar
12 Brussels sprouts, halved
3 cups mashed potatoes, or as needed
1 teaspoon chopped fresh flat-leaf parsley, or to taste
Season pork cubes with salt and black pepper.
Heat vegetable oil in a pot over high heat. Working in batches, cook and stir pork in hot oil until browned on all sides, 5 to 10 minutes. Transfer pork to a bowl and reduce heat to medium.
Melt butter in the pot. Cook and stir onion with a pinch of salt in hot butter until onion is softened and translucent, 7 to 10 minutes. Add garlic; saute until fragrant, about 30 seconds.
Stir flour into onion mixture; cook and stir until flour is completely incorporated, about 2 minutes. Add bay leaf and caraway seed; cook for 2 minutes more. Pour beer into onion mixture. Cook and stir until thickened, 1 to 3 minutes.
Stir pork, chicken broth, carrots, and celery into beer mixture; bring to simmer. Stir 1/4 cup parsley and balsamic vinegar into stew, reduce heat to medium-low, and simmer until pork is fork-tender, about 2 hours.
Bring a large pot of lightly salted water to a boil. Add the Brussels sprouts and cook uncovered until almost tender, about 5 minutes. Drain.
Stir Brussels sprouts into stew and simmer until heated through, about 5 minutes. Season with salt and pepper to taste. Divide mashed potatoes between 6 bowls. Ladle stew over potatoes and top each with a pinch of parsley.