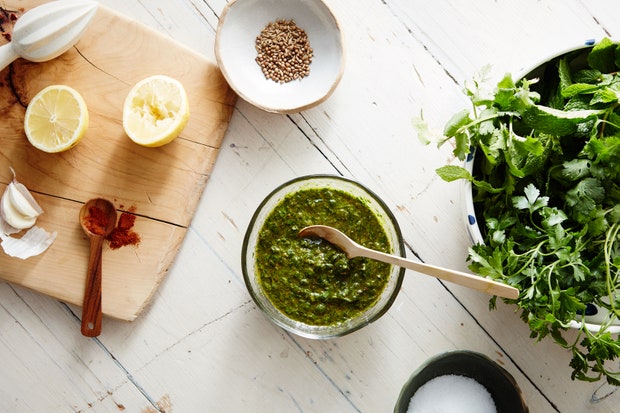 3/4 teaspoon coriander seeds
3/4 teaspoon cumin seeds
2 garlic cloves
3/4 cup extra-virgin olive oil
1/4 teaspoon finely grated lemon zest
1/4 cup fresh lemon juice
1 teaspoon smoked paprika
3/4 teaspoon kosher salt
1/4–1/2 teaspoon crushed red pepper flakes
1 cup cilantro leaves with tender stems, packed
1 cup parsley leaves with tender stems, packed
1/2 cup mint leaves, packed
Toast coriander and cumin seeds in a dry small skillet, tossing occasionally,
until very fragrant, about 2 minutes.
Let cool, then lightly crush with a heavy skillet.
Purée toasted seeds, garlic, oil, lemon zest, lemon juice, paprika, salt,
and red pepper flakes in a blender until spices are ground and mixture is very smooth.
Add cilantro, parsley, and mint; process until well combined but slightly textured.