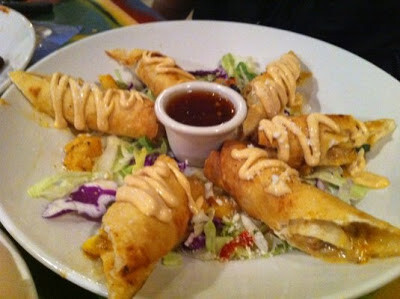 1 (12 oz can) (or 1-1/2 cups) shredded cooked chicken - drained
1/2 cup pepper jack cheese, grated
1/2 cup canned black beans, drained
1/2 cup whole kernel corn, drained (from canned or frozen)
1/2 cup finely diced onions
1/4 cup La Victoria Salsa Verde
1/2 tsp ground cumin
2 tsp garlic powder
1 tsp liquid smoke - mesquite
12 flour tortillas
4 cups cooking oil
1/2 cup Thai Mae Ploy Sweet Chili Sauce for dipping
1/4 cup apricot preserves for dipping
In a mixing bowl, stir together chicken, cheese, black beans, corn, onion, salsa verde, cumin, garlic powder and liquid smoke.
Place 2 Tablespoons of the chicken filling in a 1/2-inch wide by 6-inches long strip along the edge of a flour tortilla.
Roll the tortilla into a cigar shape, starting on the side with the chicken filling. Secure the roll with a toothpick. If it is too large to deep fry, cut each "cigar" in half and secure with separate toothpick.
Heat cooking oil to 350-375-degrees F.
Fry the rolled tortillas, a couple at a time, in the hot oil. Remove when golden brown on edges. Make sure to remove the toothpicks before serving.
Serve with Thai Mae Ploy Sweet Chili Sauce and apricot preserves mixed together and served on the side for dipping. Available in Asian food section of most supermarkets.
Makes 12 large flautas or 24 if cut in half.