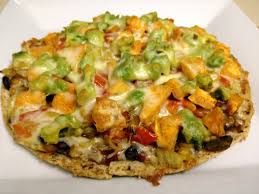 8 ounces ground beef
1/2 cup water
1/2 teaspoon ground cumin
1/2 teaspoon oregano
1/2 teaspoon salt
4 large flour tortillas
3 tablespoons vegetable oil or Pam spray
2 tomatoes, diced
6 ounces black olives, chopped
3-4 green onions, chopped
6 ounces green chilies, chopped, drained
2 cups cheddar cheese or 2 cups Monterrey jack cheese, shredded
Preheat oven to 400. Fry the ground beef with the water, the cumin, oregano and salt, stirring until the water has evaporated; drain excess grease; cool. Rub each tortilla on each side with a bit of vegetable oil. Place tortillas on a baking sheet and bake for 4 minutes. Remove from oven, and top with the seasoned beef, veggies, then the cheese. Bake for 10 minutes, or until the cheese is melted.