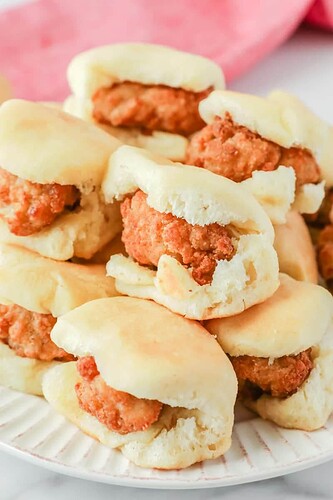 1 package Sister Schubert's yeast dinner rolls 16 rolls
2 tablespoon honey
3 tablespoons butter
1 teaspoon brown sugar
16 Member's Mark Southern Style Chicken Bites
Preheat the oven to 300°F.
Carefully, place your rolls on a pan and cover them with aluminum foil. Bake for 15 mins or until lightly browned.
In a small microwave safe bowl, carefully heat up your butter in 10-second increments until fully melted. Add honey and brown sugar to the melted butter and stir until combined.
When the rolls are done, remove from oven and coat the tops evenly with the honey butter mixture using a silicone basting brush.
Preheat air fryer for 390°F.
Add chicken nuggets to air fryer in a single layer and cook for 5 minutes.
Place rolls back into oven uncovered for 5 minutes. Remove from oven and let cool.
Once the rolls have cooled, remove them from the pan and place on a separate plate or serving tray. Remove nuggets from air fryer as well.
Using a butter knife, make a horizontal cut halfway through each roll and open. Place a chicken nugget inside each roll.
Drizzle more honey on top of the chicken minis if desired. Keep warm until ready to serve.