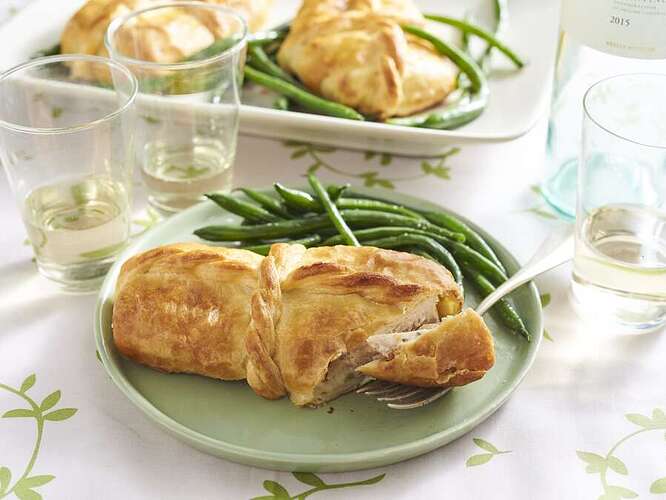 1 (17 1/4-ounce) package frozen puff pastry sheets, thawed
1 (4-ounce) container garlic-and-spice flavored Alouette cheese
6 skinned and boned chicken breast halves
1/2 teaspoon salt
1/8 teaspoon pepper
1 egg, beaten
1 tablespoon water
For garnish: kale leaves
Unfold pastry sheets, and roll each sheet into a 14- x 12-inch rectangle on a lightly floured surface.
Cut one sheet into four 7- x 6-inch rectangles;
cut second sheet into two 7- x 6-inch rectangles and one 12- x 6-inch rectangle.
Set large rectangle aside.
Shape each small rectangle into an oval by trimming off corners.
Spread pastry ovals evenly with cheese.
Sprinkle chicken breast halves with salt and pepper, and place one in center of each pastry oval.
Lightly moisten pastry edges with water.
Fold ends over chicken; fold sides over, and press to seal.
Place each bundle, seam side down, on a lightly greased baking sheet.
Cut remaining large pastry rectangle into 12- x 1/4-inch strips.
Braid 2 strips together, and place crosswise over chicken bundles, trimming and reserving excess braid;
braid two additional strips, and place lengthwise over bundle, trimming and tucking ends under.
Repeat procedure with remaining strips. Cover and refrigerate up to 2 hours, if desired.
Combine egg and 1 tablespoon water; brush over pastry bundles.
Bake at 400° on lower oven rack 25 minutes or until bundles are golden brown. Garnish, if desired.