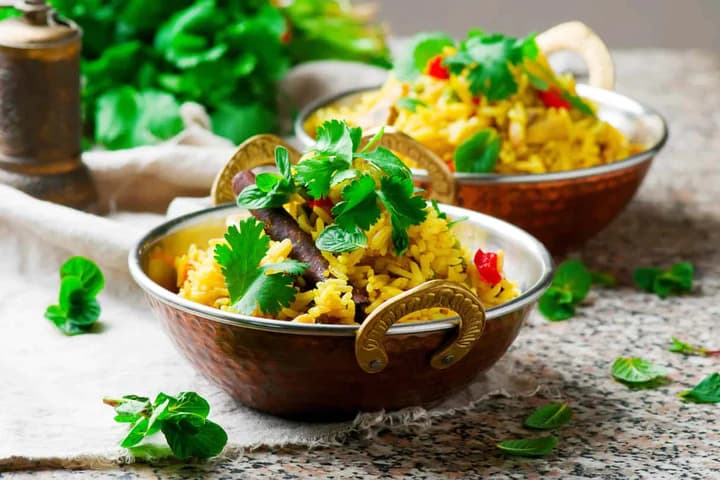 RICE
1½ cups best-quality basmati rice
6 cups water
1 tablespoon salt
2 tablespoons ghee or coconut oil
CHICKEN
1 teaspoon saffron threads
3 tablespoons warm water
1/4 cup yogurt
1 tablespoon ginger, grated
1 tablespoon garlic, grated
1 tablespoon coriander powder
1 tablespoon garam masala
1 tablespoon cumin powder
1/2 teaspoon cayenne pepper
1 teaspoon turmeric
1 tablespoon salt
2 pounds chicken thighs, boneless and skinless
3 tablespoons ghee or coconut oil
1 large yellow onion, thinly sliced
2 cups mixed vegetables (green beans, carrots and peas)
GARNISH
1/2 cup fried onions
Mint, chopped
Cilantro, chopped
For the rice:
In a bowl, wash the rice gently in several changes of cold water until the water runs clear.
Drain it and soak it in warm water for 20-30 minutes.
In a large saucepan, bring 6 cups of water to a boil.
Add the salt and ghee when the water comes to a full boil.
Add the rice and stir a few times, cooking it for 4 to 5 minutes, until it is two-thirds cooked.
(The longer the rice has soaked, the less time it will take to cook.)
Drain the rice in a sieve, run cold water through it for a minute.
Then spread it on a large platter or cookie sheet to cool. Set aside.
For the chicken:
In a small bowl, add saffron threads to warm water to bloom. Set aside.
In a mixing bowl, combine yogurt, ginger, garlic, coriander, cumin, garam masala, turmeric, cayenne and salt.
Add the chicken, mix well, and let marinate in mixture for 20 minutes.
Melt the ghee over medium-high heat in a wide, heavy-bottomed ovenproof Dutch oven.
Sauté onions till golden brown, add the chicken mixture, stirring well to coat, cook for 3 to 4 minutes.
Add vegetables and cook another 5 minutes.
To assemble:
Gently sprinkle rice over chicken mixture. Pour saffron water over rice.
Cover with foil and close the lid to cook for a further 20 minutes or until chicken is cooked through and rice is tender.
For the garnish:
Top the cooked biryani with cilantro, mint and fried onions and serve.