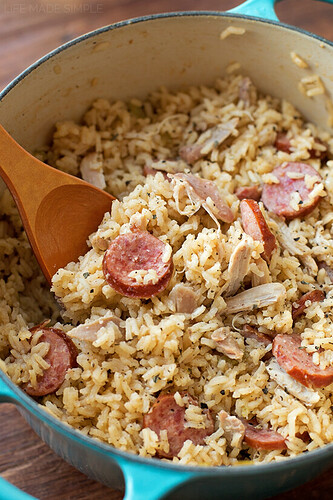 1 whole chicken about 3 lbs, quartered (you can use 2 to 2½ lb. thighs or drumsticks alternatively
1 pound smoked link sausage, sliced
1 cup chopped yellow onion
1 stick butter
2 teaspoons salt (you can use the same amount of seasoned salt, if desired)
1 teaspoon cayenne pepper
1 teaspoon black pepper
3 bay leaves
3 cups long-grain white rice
In a big pot, add the chicken, sausage, onion, butter, seasonings, bay leaves, and 8 cups water. Bring to a boil, reduce heat, cover, and simmer for 40 minutes. Remove the chicken from pot and pick the meat off the bones. Discard the skin and bones.
Meanwhile, add the rice to the pot where you were cooking chicken and once again bring to a boil, stirring frequently. Cook for 10 minutes, then reduce heat, cover, and cook for about 10 minutes longer, or until the rice is done. Discard the bay leaves. Stir in the chicken to the pot and serve.
NOTES
If there is too much butter in this recipe for you, just cut it in half, you won't lose any of the texture and too much taste. It can even be left out, if desired.