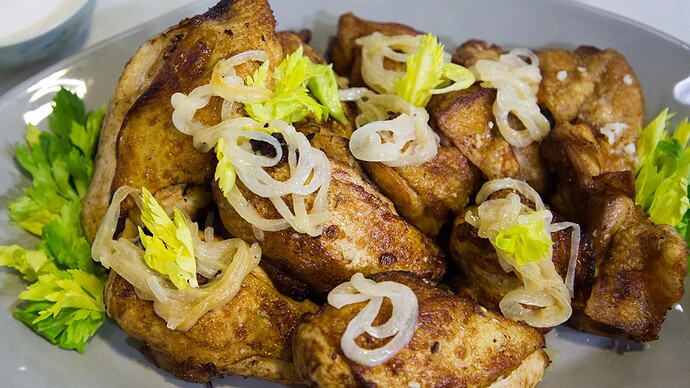 Brushing liquid:
2 tablespoons distilled white vinegar
2 tablespoons minced garlic
2 tablespoons water
Chicken:
2 boneless, skin-on chicken breasts, cut into 2-inch chunks
2 boneless, skin-on chicken thighs, cut into 2-inch chunks
1 lime, cut in half
1 tablespoon vegetable oil, plus more for frying
1 tablespoon Worcestershire sauce
1/2 cup grated onion
6 cloves garlic, minced
2 teaspoons kosher salt
1 teaspoon freshly ground black pepper
Chili-lime crema (optional)
1 cup sour cream
1 teaspoon ground chile piquín or chile de arbol
1 lime, juiced
1 teaspoon lime zest
Smothered onions:
2 tablespoons butter
2 cups thinly sliced white onion
1 tablespoon white wine vinegar
1 tablespoon freshly squeezed lime juice
1 tablespoon finely chopped celery leaves
1 teaspoon kosher salt
1 teaspoon freshly ground black pepper
For the brushing liquid:
Combine all the ingredients in a small bowl, cover and set aside.
For the chicken:
Rub all chicken pieces with lime halves. Rinse in cool water and pat dry with paper towels.
In a medium-size bowl, stir together vegetable oil, Worcestershire sauce, onion, garlic, salt and pepper.
Add chicken to bowl and coat pieces evenly. Let chicken marinate for 1 hour, covered, in the refrigerator.
Remove chicken bowl from refrigerator and let it sit for 20 minutes before frying.
Fill a large, deep skillet or fryer 1/3 of the way with vegetable oil and heat to 325°F.
Fry chicken, a few pieces at a time, until golden brown, about 12–15 minutes.
Remove chicken from oil with a slotted spoon, place on a rack, and immediately brush the fried chicken with vinegar-water brushing mixture.
For the chili-lime crema:
In a blender, combine sour cream, chiles, lime juice and lime zest. Blend until smooth.
For the smothered onions:
In a sauté pan, add butter and onions and sauté over medium-high heat for about 2 minutes, until the onions are translucent.
Squeeze lime juice over the onions and add vinegar, remove pan from heat. Finish with celery leaves, salt, and pepper.
To serve:
Serve the chicken chicharrón with smothered onions and chili-lime crema on the side.
Note
Before frying let chicken sit out for 20 from the fridge, and pat dry well before frying.