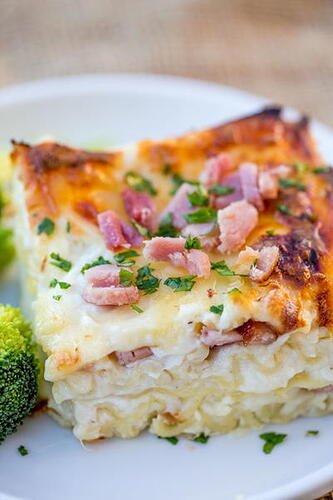 1 stick unsalted butter
2 cloves of garlic minced
1 onion chopped and sautéed
1/2 cup flour
1 cup chicken stock
3 cups milk
1/2 teaspoon Kosher salt
1/2 teaspoon fresh cracked black pepper
8 ounces cream cheese, at room temperature
12 lasagna pasta sheets, cooked two minutes shy of directions
2 chicken breasts, cooked and chopped into 1/2 chunks
2 cups Ham, cut into 1/2 inch cubes
1 package 16 Swiss cheese slices
2 cups shredded mozzarella
Pre-heat the oven to 375 degrees.
In a large pot add the butter, garlic and chicken stock.
When melted add in the flour and whisk.
Slowly pour in the milk.
Add the salt and pepper and whisk until fully combined and thickened (5-7 minutes).
Add in the cream cheese and whisk until fully combined.
To make your lasagna add a scoop of the milk mixture to coat the bottom of your pan.
Layer three sheets of pasta across the pan. Add a third of the chicken and ham.
Cover with a quarter of each cheese.
Add a third of the sauce. Repeat until you have three full layers.
Cover with your remaining three sheets of pasta.
Cover with your remaining cheese, wrap with foil and bake for 45 minutes.
Remove foil and bake an additional fifteen minutes to brown.
Let sit 15 minutes before serving.