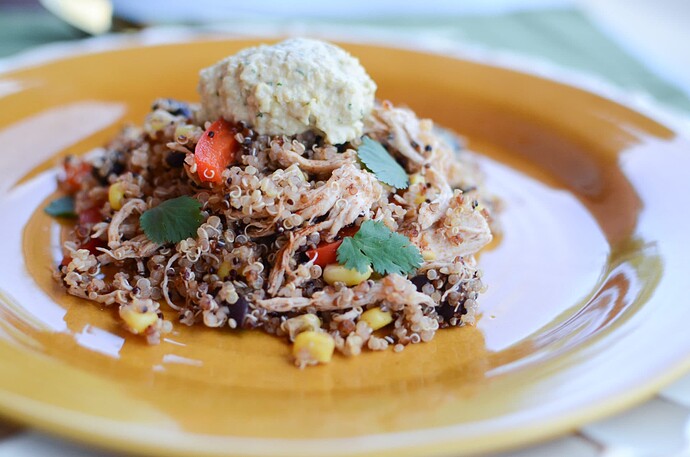 1 tsp. olive oil
1/3 c bell pepper (any color) sliced into strips
1/2 c quinoa, cooked
1 1/2 limes, juiced
1/4 c corn kernels, cooked
1/4 c black beans, cooked
1/2 c boneless and skinless chicken breast, cooked and shredded
1 tsp. ground cumin
1 tsp. chili powder
3/4 tsp. salt
large spoonful of Cilantro Lime Hummus for garnish
In a small saute pan, heat the olive oil. Once hot, add the peppers and cook just until softened. Set aside.
Combine the quinoa and half the lime juice. Mix well and place in the bottom of a large serving bowl.
Mix the cooked bell pepper, corn, and black beans into the quinoa.
In a small bowl, combine the chicken, remaining lime juice, cumin, and chili powder. Gently mix into the quinoa. Top with Cilantro Lime Hummus.
Cilantro Lime Hummus
1 can Chickpeas drained/rinsed
¼ tsp. Cayenne Pepper (or less if you are sensitive to heat)
3 tbsp. Olive Oil
2 small cloves of Garlic
¼ cup fresh cilantro leaves
¼ cup Tahini
4 oz can Green Chilis; diced
juice from 1 lime (about 2 Tbs)
Add all ingredients to food processor.
Process until smooth, about 30 seconds.