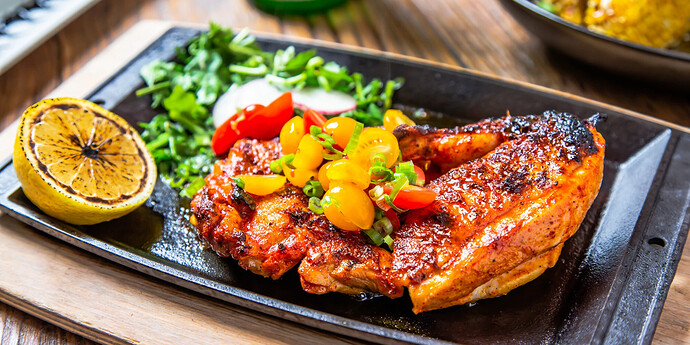 1/2 cup apple cider vinegar
1/2 cup lemon juice
1/2 cup fish sauce
1/2 cup minced ginger
1/2 cup minced garlic
1/2 cup chopped lemongrass, white part only
1 cup brown sugar
freshly ground black pepper, to taste
4 chicken breasts
Glaze
2 ounces achiote paste
1 ounce lemon juice
1/4 pound butter
For the marinade:
Place all ingredients, except for the chicken, in a bowl and mix until incorporated. Add the chicken breasts to the marinade, turn to coat, cover and refrigerate for 4-6 hours.
For the glaze:
Put achiote and lemon juice in small pot over low heat. Using fork, mash the paste. Slowly add in butter in small amounts at a time over medium heat. Set aside.
Take the chicken out of the marinade and pat dry.
Heat a well-seasoned grill or a heavy cast-iron skillet over medium-high heat.
Place the chicken on the grill or skillet and sear both sides until internal temp reaches 165 F. While cooking, baste chicken with the glaze.
Serve with rice.
Technique tip: Sear the chicken on the grill or a pan until you get the color you want — you can finish the chicken breasts in the oven to avoid charring of the meat.
Swap option: The marinade can be used on different proteins such as beef and pork.