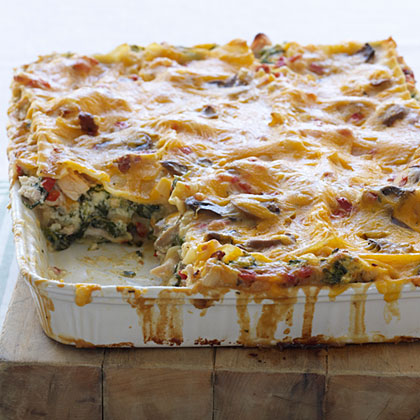 1 tablespoon butter or margarine
1/2 large onion
1 (10 1/2-ounce) can reduced-fat cream of chicken soup, undiluted
1 (10-ounce) container refrigerated reduced-fat Alfredo sauce
1 (7-ounce) jar diced pimiento, undrained
1 (6-ounce) jar sliced mushrooms, drained
1/3 cup dry white wine
1/2 teaspoon dried basil
1 (10-ounce) package frozen chopped spinach, thawed
1 cup cottage cheese
1 cup ricotta cheese
1/2 cup grated Parmesan cheese
1 large egg, lightly beaten
9 lasagna noodles, cooked
2 1/2 cups chopped cooked chicken
3 cups (12 ounces) shredded sharp Cheddar cheese, divided
Melt butter in a skillet over medium-high heat. Add onion, and sauté 5 minutes or until tender. Stir in soup and next 5 ingredients. Reserve 1 cup sauce.
Drain spinach well, pressing between layers of paper towels.
Stir together spinach, cottage cheese, and next 3 ingredients.
Place 3 lasagna noodles in a lightly greased 13- x 9-inch baking dish. Layer with half each of sauce, spinach mixture, and chicken. Sprinkle with 1 cup Cheddar cheese. Repeat procedure. Top with remaining 3 noodles and reserved 1 cup sauce. Cover and chill up to 1 day ahead.
Bake at 350° for 45 minutes. Sprinkle with remaining 1 cup Cheddar cheese, and bake 5 more minutes or until cheese is melted. Let stand 10 minutes before serving.
NOTE: For testing purposes only, we used Cantadina Light Alfredo Sauce, found in the dairy section of the supermarket.
Southern Living