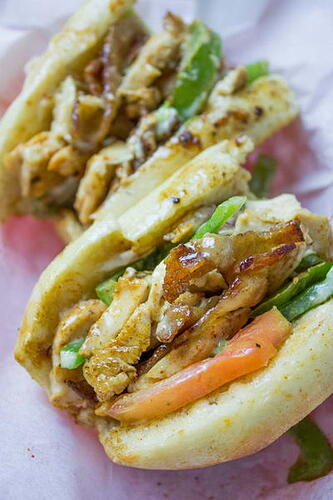 ¼ cup canola oil
Kosher salt and freshly ground black pepper
2 boneless, skinless chicken breasts butterflied
1 large yellow onion, sliced
1 green bell pepper, sliced
2 cloves garlic, minced
8 slices bacon, cooked crisp
¼ teaspoon cayenne powder
8 slices provolone
mayonnaise
4 hoagie rolls, sliced almost all the way through and lightly toasted Hot Chopped Peppers Lettuce Tomato
Add the canola oil to a heavy bottomed skillet (I use my trusty cast iron skillet) and heat on high.
Season your chicken with Kosher salt and pepper to taste.
Add the chicken to your skillet and cook until browned on both sides.
Since it is butterflied and thinner it will be done in the middle by the time the sides are browned.
Remove the chicken from the pan and add the onions and bell peppers.
Sauté for 3-5 minutes or until slightly browned and softened.
Add in the garlic and cayenne pepper and cook for an additional 30 seconds while stirring.
Turn off the heat under the pan and chop the chicken into thin ½ inch strips.
Add the chicken and bacon into the pan and stir to combine all the ingredients.
Onto each roll spread mayonnaise, hot peppers, lettuce and tomato to taste.
Add the provolone slice to cover both sides (to create a pocket for the chicken to sit in) and put ¼ of the filling inside each roll.
Serve with Oreo Chunk Cookies for the full Wisey's experience.