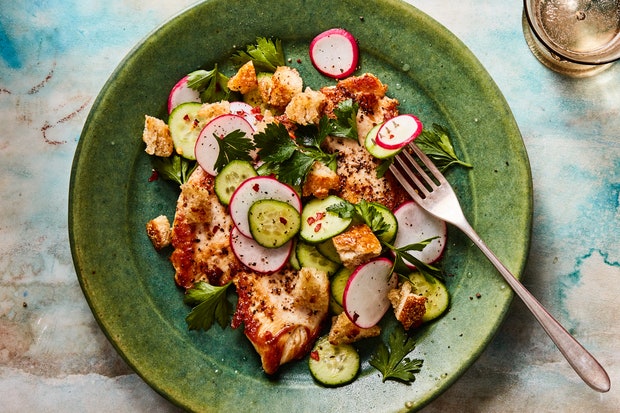 2 skinless, boneless chicken breasts (6–8 oz. each)
1 1/2 tsp. kosher salt, divided
1 1/4 tsp. freshly ground black pepper, divided
3 Tbsp. schmaltz (chicken fat) or extra-virgin olive oil, divided
2 thick slices country-style white bread, torn into 1/4"–1/2" pieces (about 2 cups loosely packed)
2 mini seedless or Persian cucumbers, thinly sliced
3 radishes, trimmed, thinly sliced
1/2 cup parsley leaves with tender stems
2 Tbsp. fresh lemon juice
1/4 tsp. crushed red pepper flakes
Working one at a time, pound chicken between 2 sheets of plastic wrap or in a large resealable plastic bag to 1/2" thick; season with 1 tsp. salt and 1 tsp. pepper.
Heat 1 Tbsp. schmaltz in a large nonstick or cast-iron skillet over high. Carefully place 1 chicken breast in skillet, laying it away from you, and cook until golden brown and nearly cooked through, about 4 minutes. Turn and cook until cooked through, about 1 minute (second side will not brown). Transfer to a large plate. Repeat with 1 Tbsp. schmaltz and remaining cutlet.
Reduce heat to medium and add remaining 1 Tbsp. schmaltz to same skillet. As soon as schmaltz is hot, add bread and toss to coat. Pour any accumulated juices from plate with chicken over bread and continue to cook bread, stirring constantly, until golden brown and outsides are lightly crisped but centers are still soft, about 3 minutes. Season with 1/2 tsp. salt and remaining 1/4 tsp. pepper and toss to combine. Remove skillet from heat.
Toss cucumbers, radishes, parsley, lemon juice, red pepper flakes, and remaining 1/4 tsp. salt in a large bowl. Add bread and toss again to distribute.
Transfer chicken to a platter. Top with salad.