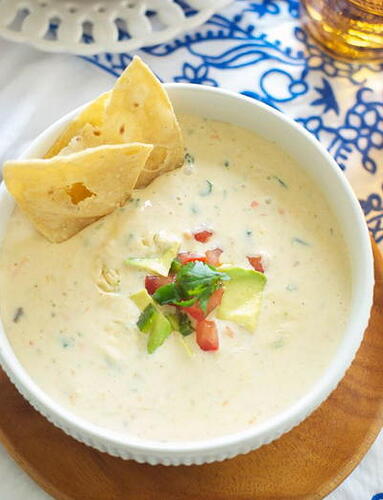 12 oz. asadero cheese
3/4 c whole milk
1 chicken breast
salt
pepper
paprika
oil
red bell pepper stem and seeds removed
poblano pepper stem and seeds removed
jalapeno stem and seeds removed
1/4 yellow onion
cilantro
1/4 t salt
Preheat frying pan with 1 t oil over medium heat.
Season chicken breast with salt, pepper, and paprika. Cook chicken breast, flipping after 5 minutes.
Let cook another 3-4 minutes. Remove from heat and let sit, covered, for 10 minutes.
Remove chicken from pan and place in blender to shred.
Heat oil in pan and grill bell pepper, poblano pepper, jalapeño pepper, and onion until softened.
Place in blender with chicken.
Pulse chicken and peppers until shredded.
Place mixture in bowl, top with chopped cilantro.
Chop asadero cheese and place into bowl. Pour milk in.
Microwave until melted (about 2 minutes), stirring every 30 seconds.
Pour melted asadero over chicken mixture.
Stir until well-combined.
Serve in heated crock pot, or other warmer to keep warm.