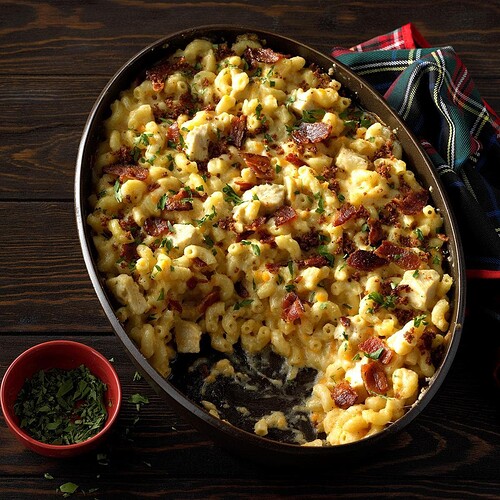 3 cups uncooked elbow macaroni
3 tablespoons butter
2 tablespoons all-purpose flour
1/2 teaspoon salt
1/4 teaspoon pepper
1 cup 2% milk
1-1/2 cups shredded cheddar cheese
1/2 cup grated Parmesan cheese
1/2 cup shredded Swiss cheese
3/4 cup ranch salad dressing
1 cup coarsely chopped cooked chicken
topping:
1/3 cup seasoned bread crumbs
2 tablespoons butter, melted
10 bacon strips, cooked and crumbled
1 tablespoon minced fresh parsley
Preheat oven to 350°. In a 6-qt. stockpot, cook macaroni according to package directions for al dente; drain and return to pot.
Meanwhile, in a medium saucepan, melt butter over medium heat. Stir in flour, salt and pepper until smooth; gradually whisk in milk. Bring to a boil, stirring constantly; cook and stir until thickened, 1-2 minutes. Stir in cheeses until blended. Stir in dressing.
Add chicken and sauce to macaroni, tossing to combine. Transfer to a greased 13x9-in. baking dish.
Toss bread crumbs with melted butter; sprinkle over macaroni. Top with bacon. Bake, uncovered, 30-35 minutes or until topping is golden brown. Sprinkle with parsley.