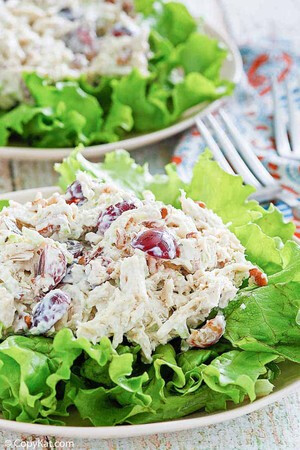 1 1/2 pounds chicken tenders
32 ounces chicken stock
3/4 cup mayonnaise, Chicken Salad Chick uses Duke's
2 tablespoons celery finely minced
2 teaspoons dry ranch salad dressing mix
1/2 teaspoon ground black pepper
1/2 teaspoon salt
3/4 cup red seedless grapes
1/2 cup chopped pecans
1/2 to 3/4 cup Fuji apple chopped
Place the chicken tenders and chicken stock in a large pot. Poach over medium heat for about 15 to 20 minutes or until the chicken is fully cooked.
Shred the chicken. The chicken can be shredded with a stand mixer by using a paddle attachment. Or shredding the chicken tenders using two forks works well also.
In a medium-sized bowl, place the celery, dry ranch dressing mix, mayonnaise, salt, and pepper. Blend well.
Add the shredded chicken and mix in thoroughly.
Serve on a bed of lettuce or in a sandwich.