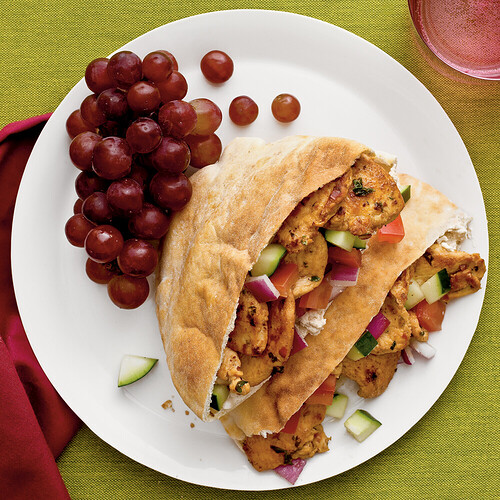 2 tablespoons finely chopped fresh parsley
1/2 teaspoon salt
1/2 teaspoon crushed red pepper
1/4 teaspoon ground ginger
1/4 teaspoon ground cumin
1/8 teaspoon ground coriander
5 tablespoons plain low-fat Greek-style yogurt, divided
2 tablespoons fresh lemon juice, divided
3 garlic cloves, minced and divided
1 pound skinless, boneless chicken breast halves, thinly sliced
2 tablespoons extra-virgin olive oil
1 tablespoon tahini
4 (6-inch) pitas, halved
1/2 cup chopped cucumber
1/2 cup chopped plum tomato
1/4 cup prechopped red onion
Combine first 6 ingredients in a large bowl; stir in 1 tablespoon yogurt, 1 tablespoon juice, and 2 garlic cloves. Add chicken; toss to coat. Heat oil in a large nonstick skillet over medium-high heat. Add chicken mixture to pan; sauté 6 minutes or until browned and done, stirring frequently.

While chicken cooks, combine remaining 1/4 cup yogurt, remaining 1 tablespoon lemon juice, remaining 1 garlic clove, and tahini, stirring well. Spread 1 1/2 teaspoons tahini mixture inside each pita half; divide chicken evenly among pita halves. Fill each pita half with 1 tablespoon cucumber, 1 tablespoon tomato, and 1 1/2 teaspoons onion.