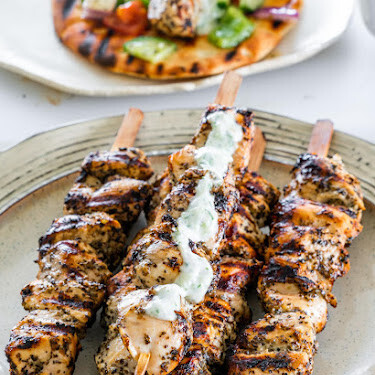 We will travel to Greece. I wish I could go there again in real life. But we will go to Greece by cooking. Today we will cook Chicken Souvlaki.
More meat cooked in skewers. This time it will be chicken, but normally pork is the meat chosen for this recipe. Souvlaki is very popular in Greece, and as you surely know, you can find meat in skewers in many countries. They have different names, they are cooked in different ways, different meats, vegetables or even fish are used with the skewers. But all of them are delicious. Now, Chicken Souvlaki.
Ingredients:
½ pound breast chicken
1 teaspoon oregano
½ teaspoon salt
½ teaspoon freshly ground black pepper
2 tablespoons extra virgin olive oil
2 tablespoons red wine
¼ teaspoon garlic powder
½ cup sliced onion
½ cup sliced green pepper
Some extra virgin olive oil to sauté the onion and the green pepper
Some pita bread
Half a lemon
First we will prepare the chicken cutting it in cubes. Once the chicken is cut, we will put the chicken pieces in a container. We will add the oregano, the salt, the black pepper, the olive oil, the red wine and the garlic powder. We will mix everything well and we will let it marinate for about four hours.
To make your Souvlaki you can use wooden or metal skewers. I will use metal skewers this time. If you use wooden ones, you should soak them in water for some minutes before threading the meat.
When the chicken is ready, we will thread the pieces of chicken on the skewers. We will put the skewers with the chicken on an oven tray and will put the tray in the oven. The oven must be preheated to 400ºF. Cook the chicken for about 20 minutes or till they are done.
While the chicken is being cooked, we will heat some extra virgin olive oil in a pan and we will sauté the onion and the green pepper slices. Just for a couple of minutes.
Remove the chicken from the skewers.
Once we have the chicken and the onion and green pepper ready, we will serve them on pita bread. Squeeze the lemon on the dish and enjoy your Chicken Souvlaki.