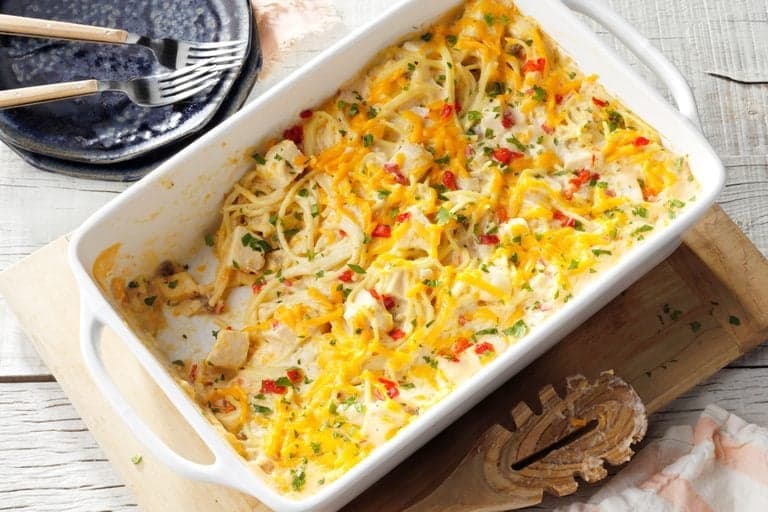 12 ounces uncooked spaghetti, broken into 2-inch pieces
1/4 cup butter, cubed
1 medium onion, chopped
2 garlic cloves, minced
3 tablespoons all-purpose flour
2 cups 2% milk
3 cups cubed cooked chicken breast
1 can (10-3/4 ounces) condensed cream of mushroom soup, undiluted
1 jar (4 ounces) diced pimentos, drained
4 ounces cream cheese, cubed
1-1/2 cups shredded cheddar cheese, divided
1/2 teaspoon pepper
Step 1: Cook spaghetti
Preheat the oven to 350°F. Cook spaghetti according to package directions. Drain it when it's done, reserving a few cups of the pasta water so you can mix some into the sauce.
Step 2: Cook your aromatics
Meanwhile, in a Dutch oven, melt butter over medium heat. Add onion; cook and stir until it's translucent and beginning to soften, 6-8 minutes. Add garlic; cook and stir 1 minute longer.
Love mushrooms? You can add some fresh, sliced button or cremini mushrooms to the mix when you put the onions in the pan.
Step 3: Make a roux
Whisk flour into the garlic and onion mixture until blended, then slowly add the milk, whisking as you go. Bring to a simmer and cook, stirring, until thickened, about 2 minutes. Making roux sounds fancy, but you just did it!
Step 4: Build the casserole
Into your roux, stir the chicken soup, pimentos, cream cheese, 3/4 cup shredded cheese and pepper. Add spaghetti and toss to coat. If needed, add a little of your reserved pasta water until the sauce is a nice, creamy consistency.
For extra zing, whisk in a squeeze of lemon juice or a couple teaspoons of tomato paste.
Step 5: Bake the chicken spaghetti
Transfer to a greased 13×9-in. baking dish. Sprinkle with the remaining 3/4 cup shredded cheese. Cover and bake 20 minutes. Uncover and bake until bubbly, 10-15 minutes longer. If you have fresh herbs at home, sprinkle minced oregano, basil or sage over each portion before serving.