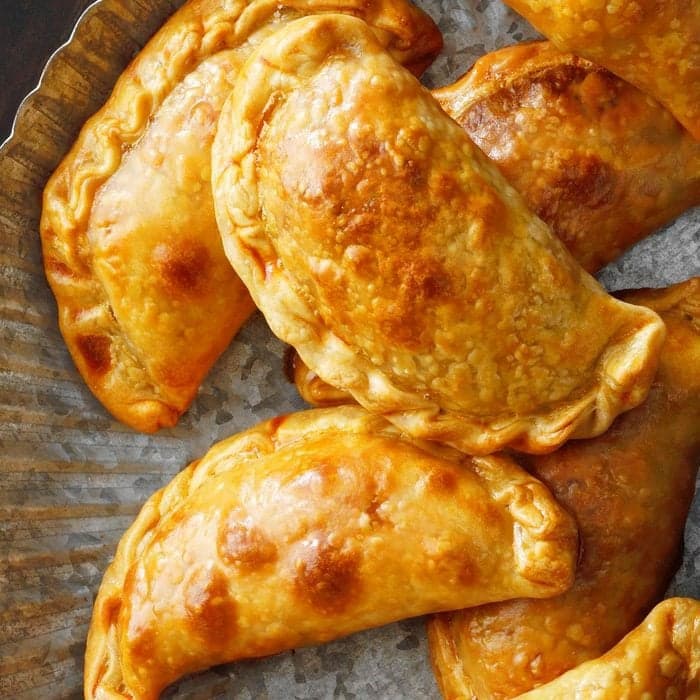 1 pound ground beef
1/2 large onion, finely chopped
3 hard-boiled large eggs, chopped
1/3 cup chopped pitted green olives
1 tablespoon ground cumin
1 tablespoon chili powder
1 teaspoon smoked paprika
1 teaspoon salt
1/2 teaspoon pepper
1 large egg, beaten
2 packages (14 ounces each) frozen empanada dough disks, thawed
Salsa verde, optional
Preheat oven to 400°. In a large skillet, cook beef and onion over medium heat until beef is no longer pink and onion is tender, 6-8 minutes, breaking up beef into crumbles; do not drain. Stir in hard-boiled eggs, olives and seasonings; heat through. Remove from the heat.
Brush beaten egg over edges of dough circles. Place 3 tablespoons filling on 1 side of each. Fold dough over filling. Crimp edges and press to seal. Place on parchment-lined baking sheets. Brush tops with remaining beaten egg. Refrigerate for 15 minutes.
Bake until golden brown, 20-25 minutes; serve warm with salsa verde if desired.