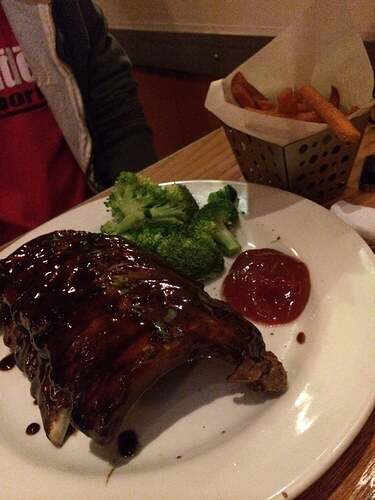 2 racks baby back ribs
1 large (2 liter) bottle of Dr Pepper
1/4 cup salt
2 tablespoons chili powder
1 cup water
1/2 tablespoon olive oil
1 onion, minced
2 clove garlic, minced
1/2 cup ketchup
2 tablespoons brown sugar
2 tablespoons Worcestershire sauce
2 tablespoons cider vinegar
1/4 teaspoon cayenne pepper
Place the ribs in a large baking dish and cover with most of the Dr Pepper (leave about 1/2 cup of Dr. Pepper for later) Add the salt and soak the ribs for 2 -24 hours in the fridge.
Heat the oven to 350 degrees. Remove the ribs from the liquid, place on a baking sheet and pat them dry. Give them a good rub with the chili powder. Pour 1 cup of water into the baking sheet, and cover tightly with foil. Bake for 2 hours, until the meat nearly falls off the bone. While the ribs are in the oven, heat the oil in a small pot over medium heat. Saute the onion and garlic until they're soft and add the ketchup, brown sugar, Worcestershire, apple cider vinegar, cayenne, and remaining 1/2 cup of Dr Pepper. Simmer for 15 to 20 minutes, or until the sauce thickens.
Once the ribs have done their thing for 2 hours, remove from the oven and fire up the grill. Liberally brush the ribs with bbq sauce. When the grill is hot, cook them for 7-8 minutes on each side so they get the nice charred flavor. Remove from grill and add more sauce if desired.