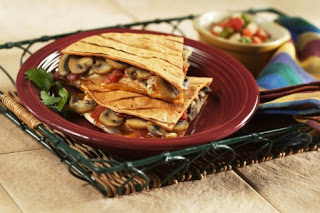 White onions , sliced
Green and red peppers, sliced
Mushrooms, sliced
Bacon, 1 sliced per person
Flour tortillas
Fajita seasoning
Monterey Jack cheese, shredded
Choice of condiments (sour cream, diced tomatoes, Pico de gallo, shredded cheese)
Slice uncooked chicken breast into thin strips against the grain of the meat.
Place uncooked chicken strips in a large zip-type bag, sprinkle with approximately 1/8th teaspoon per chicken breast and store in the refrigerator while you prepare the other ingredients.
Slice the onions, peppers and mushrooms into thin slices and set aside.
Use is 1 cup of fresh sliced vegetables per person.
Cook bacon until crisp, drain and set aside.
Preheat the griddle or skillet and spread 1 tablespoon of cooking oil on the bottom.
Sauté the chicken in the hot skillet turning often to brown evenly. When the outside is golden brown, add the peppers and onions. When the vegetables are crisp-tender, add the mushrooms and cook for one more minute. Remove from heat.
Soften tortillas by placing on a microwave-safe plate and covering with a damp paper towel.
Microwave 1 minute on high for six tortillas.
Separate warm tortillas and wrap immediately in aluminum foil, folding them in half and sealing the foil to keep them soft.
Place cooked chicken and vegetables on individual serving plates and cover with shredded Jack cheese.
Top with crumbled bacon and microwave for 15 seconds to melt the cheese.
Serve the fajitas with a side dish for each person, prepared with your choice of condiments.
Chili's uses shredded iceberg lettuce, Pico de gallo, sour cream, guacamole and extra cheese.