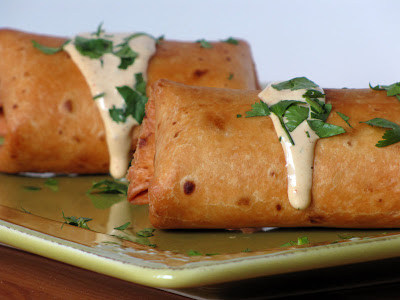 1 T oil
1 1/2 bunches scallions, finely chopped
4 cloves garlic, minced
1 tsp cumin
1 tsp chili powder
Pinch of cayenne (optional)
1 15 oz can black beans, drained and rinsed
3/4 of a cooked chicken breast, roughly chopped
3 TBSP heated frozen spinach, drained
1 small handful of fresh cilantro
1/4 c water (or more, if needed)
1 tsp kosher salt (1/2 tsp table salt)
Black pepper to taste
2 TBSP frozen corn
2 TBSP red bell pepper
2 c pepper jack cheese, freshly grated
8 7" flour tortillas
Oil for frying
Heat a skillet over medium heat with one tablespoon of oil. When hot, add the scallions and minced garlic and cook 2 to 3 minutes or until the scallions are soft. Add the cumin, chili powder, and cayenne (if using) and stir to combine. Cook one minute longer then scrape the mixture into a food processor.
To the scallion mixture in the food processor, add the drained and rinsed black beans, chicken breast, spinach, water, salt, and some pepper. Pulse a few times until the mixture is roughly chopped. Set aside.
Wipe out the skillet you cooked the scallions in, add a little more oil, and set the pan over medium heat. Cook the corn and red bell pepper for a couple of minutes then dump in the bean mixture from the food processor. Stir to combine and taste for seasoning. The mixture should be thick but if it seems rather dry, add another tablespoon or two of water. I usually end up adding more cumin and chili powder (and sometimes a little more salt) because I like my filling to have a rather robust flavor. Take the pan off the heat and let the mixture cool for a few minutes. After the mixture has cooled, add the pepper jack cheese and stir to combine.
Warm the tortillas per the package instructions. Spoon the filling into a 1/3 measuring cup and gently pack the filling. Dump the filling onto a warm tortilla and mold the filling slightly into an oblong shape. Fold in the sides and roll it up as if you were rolling a burrito. Insert a toothpick to keep the eggroll closed. Repeat until you have used up all of the filling.
Begin heating about 3" of oil (peanut oil works great) in a deep sauce pan. Begin preheating the oven to 200F. Insert a wire rack into a sheet pan and set aside.
Once the oil reaches 350F, add 2 or 3 eggrolls (depending on the size of your pan) and fry for about 5 minutes – turning often. The eggrolls are done when the outside is brown and crispy. Transfer the eggrolls to the rack in the sheet pan and place in the oven to keep warm while you are frying the rest of the eggrolls. When finished, serve with your favorite dipping sauce.