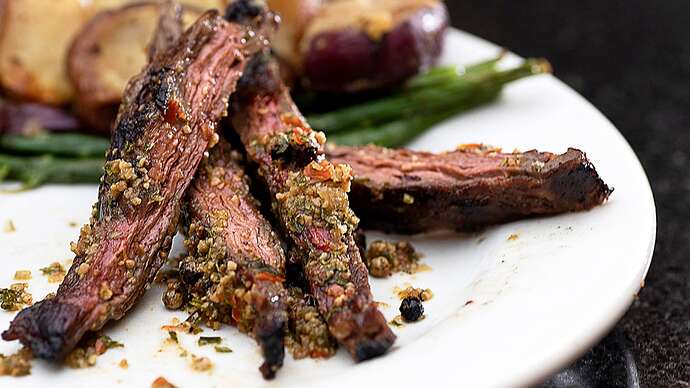 Steak:
1 teaspoon garlic, minced
1 teaspoon cilantro, chopped
2 tablespoons olive oil
3 tablespoons Santo Tequila Blanco
1 tablespoon lemon juice, fresh squeezed
1 tablespoon lime juice, fresh squeezed
½ teaspoon kosher salt
1 teaspoon black pepper, freshly ground
1.5 pounds skirt steak, trimmed
Chimichurri Sauce:
1 tablespoons cilantro, chopped
1 tablespoons parsley, chopped
1 tablespoon chives, chopped
2 tablespoons yellow onion, minced
1 tablespoon red pepper, small dice
1 tablespoon garlic, minced
1 teaspoon kosher salt
1 tablespoon cracked black pepper
½ teaspoon cumin
2 tablespoons red wine vinegar
1 Tbsp – Pasilla Peppers, Dried
2 Tbsp – Extra Virgin Olive Oil
Steak:
Combine all ingredients and marinate the steak for at least 2 hours.
Heat a charcoal grill on high heat and cook the steak for approximately 4 minutes on each side, less if the steak is thin.
Remove from the grill and let rest for 5 to 10 minutes. Slice on the bias and against the grain into ¼-inch pieces.
Lay the steak slices on a platter and top with the chimichurri sauce.
Chimichurri Sauce:
Combine all the ingredients in the food processor and pulse to create a coarse sauce. Set aside for 2 hours to allow the flavors to develop.